Disney's Toontown Online/Getting Started
From StrategyWiki, the video game walkthrough and strategy guide wiki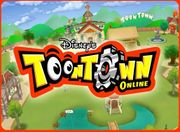 Disney's Toontown Online is a 3D Online computer game that allows you to meet up with friends, take down the evil Cogs, and participate in fun activities. Since it's a game allowing you to manage your character's growth, it's an RPG game.
Like most online games, Toontown requires a payment in order to play, although you may try the game for three days using a Free Trial account. You don't have access to everything during the trial, but you have a chance to see the life of Toontown.
[edit]
New Toons
When you create a Toon, you will jump into a Toon Creating Session. Unlike any other games, Disney's Toontown Online does not contain any jobs; all Toons are trying to defeat the Cogs. When you start out, you're able to work on one task at a time and have the following stats:
Laff: 15
Throw Gag: Cupcake
Squirt Gag: Squirting Flower
As you become stronger, you will get bigger and better gags, grow your Laff, and gain the ability to work on four tasks at a time. Once your Toon is made, he or she cannot be edited.
The Toons are all placed in one world with many districts. Each district is a copy of the Toontown world. If a place is too populated, you may move from district to district. There are different colored circles that represent the population of the district:
| | |
| --- | --- |
| Blue | Barely has any Toons. |
| Green | Normal population numbers. |
| Red | Overpopulated, blocks players from entering. |
[edit]
General
In this game, you will have to fight off robot enemies called Cogs to save the world of Toontown. You will face off with weak Cogs when you start, but as you train more, you will run into bigger and badder Cogs. Defeat them to train your Toon with bigger and better abilities and gags.
Toontown has weapons, currencies, enemies, and friends. Toons battle Cogs and complete Toontasks, as well as obtain the Toontown currency, Jellybeans, along with skill points (SP), and bigger abilities to become more powerful against most Cogs. The Toons become powerful depending on two things: their Laff (HP) and Gags (weapons). Some Toontasks give higher Laff as a reward, while others give bigger space for gags. You can also boost your Laff by Gardening, Fishing, and Racing.