From StrategyWiki, the video game walkthrough and strategy guide wiki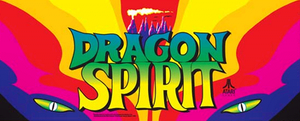 Dragon Spirit is a vertical scrolling shooter arcade game that was released by Namco in 1987, and licensed to Atari Games for US manufacture and distribution. It runs on Namco System 1 hardware, and later converted to the Commodore 64, Commodore Amiga, Atari ST, Amstrad CPC, Sinclair ZX Spectrum, Sharp X68000 and TurboGrafx-16 system. A sequel named Dragon Saber was released 1990, which ran upon Namco's System 2 hardware and allowed two players to play simultaneously; much like its predecessor, it used Yamaha YM-2151 FM sound chip for its songs - but it used C140 custom sound chip for both its sound effects and speech samples (as opposed to a PSG and DAC).
The game's story starts when after a millennium of captivity, an ugly serpent demon named "Zawell" escapes imprisonment and kidnaps Alicia, princess to the kingdom of Mitgult. A young, crafty soldier named "Amul" is then selected to rescue the princess, and destroy Zawell. In praying to the gods for strength and courage, he points his sword high toward the heavens. Suddenly he is transformed into an all-powerful blue dragon, bestowed with special powers. Although he has been gifted with a lethal air and ground attack, this is not enough. He must also locate and obtain extra powers along the way (there are a total of thirteen but one of them should not be collected by any means if you ever see it). Zawell has instructed nine of his "mightiest beasts" to try and thwart Amul before he reaches his goal (the Plesiosaurus, Round Phoenix, Guri Teriasu, Death Guardian, Berento Spider, Gubira, Sea Devil, Turnway Guard and Hydra; and once Amul has defeated the last of these, he will have to fight Zawell himself). Once Amul has spat enough flames at Zawell to defeat him, he will drop down to the ground below and revert to his human form as the now-rescued Princess Alicia runs up to him and hugs him - and the game will be over. Phelios and Dangerous Seed also have similar gameplay to this title.
Table of Contents