Halo: Combat Evolved/CTF
From StrategyWiki, the video game walkthrough and strategy guide wiki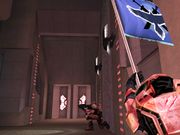 In Capture the Flag (often abbreviated as "CTF"), the goal is to capture the flag of the opposing team and bring it back to your base to score. Players walk over the flag to pick up the flag, but if they are carrying it they cannot use a weapon.
Each team starts in their own bases which are located a fair distance away from each other. The teams may use Warthogs, Ghosts, or Scorpions. Since each team has a limited amount of these vehicles to use some people may have to walk on foot and use the teleporters.
Most CTF games are played with full shields and health and basic starting weapons as the assault rifle and the pistol.