From StrategyWiki, the video game walkthrough and strategy guide wiki
Ice Climber
Japanese title
アイスクライマー
Developer(s)
Nintendo
Publisher(s)
Nintendo
Distributor(s)
Wii Virtual Console, 3DS Virtual Console, Wii U Virtual Console
Release date(s)
Genre(s)
Action
System(s)
NES, Family Computer Disk System, NEC PC-8801, Game Boy Advance, e-Reader, Wii, Nintendo 3DS, Wii U
Players
1-2
Rating(s)
Neoseeker Related Pages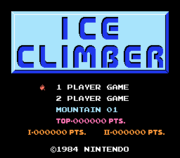 Ice Climber is a later first generation Nintendo game released for the Famicom. It was the fifth best selling Famicom game released in 1985, selling approximately 1,000,000 copies in its lifetime. It arrived in the U.S. as one of the launch titles for the NES. In Ice Climber, the player must use his or her hammer to chip away at the ceiling above and rise up to higher and higher levels of the mountain until he or she reaches the bonus round at the top. It isn't actually necessary to clear the bonus round and reach the very top of the mountain, but many bonus points are awarded for the accomplishment.
Ice Climber was altered for release in the United States. The original Japanese version featured an enemy in the form of a seal. Since the player's main form of defense is the hammer, Nintendo of America changed the seal to the form of a small abominable snowman in order to avoid appearing to condone animal cruelty and offending parents who were sensitive to the clubbing of seals, which was a controversial topic at the time of the game's release.
Ice Climber was brought back out of obscurity when Nintendo included the ice climbing duo in the Nintendo GameCube version of Super Smash Bros. Melee. Long before this, it was released in the arcades as part of Nintendo's Vs. arcade series, entitled Vs. Ice Climber where it featured additional elements such as gusts of wind. Ice Climber was later released on the Game Boy Advance as part of the e-Reader card series, and then once again as part of the Famicom Mini and Classic NES series. It is also featured as one of the backdrop themes for the Standard mode in Tetris DS.
Ice climbing duo Popo and Nana are attempting to climb an ice covered mountain and recover their stolen vegetables from the giant condor that has stashed them at the peak. They must use their hammers to create openings in the ice layers over head, and to combat enemies.
Table of Contents
Gameplay summary
[
edit
]
You control the player with the control pad. Press A to jump up and smash anything overhead, and press B to slam your hammer on the ground.
Avoid touching seals (or snowmen), birds, or icicles.
You must reach the bonus round in order to advance to the next stage. You do not need to complete the bonus round to advance.
Use your hammer to create openings in the layers of ice above, or to hit enemies away from you.
If a seal (or snowman) encounters a hole in the ice, it will attempt to close the gap with more ice.
Some ice is unbreakable. Other patches of ice force the climber to slide in a particular direction.
In the bonus rounds, collect as many vegetables as possible, and reach the top. Jump in to the Condor's claws within 40 seconds to receive a bonus.