Kingdom Hearts/Traverse Town (3rd Visit)
From StrategyWiki, the video game walkthrough and strategy guide wiki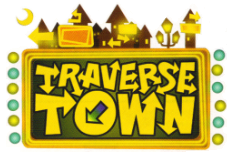 After locking a few more worlds, it's back to Traverse Town. You can't travel to the next world without going back to Traverse Town.
Now that you have the second Navi-G piece, you can bring it to Cid to install in the Gummi Ship. He will be where he was before, behind his shop. Talk to him and Cid will leave to install it, which begins a new cutscene. Sora sees a young Kairi and her grandmother, but isn't sure why - though he seems to think it's some sort of sign that Kairi's calling him. Cid will come back and warn you about how your next destination is crawling with Heartless, then gives you Transform-G.
You can now leave Traverse Town and head to the next world.