Labyrinth (Famicom)/Walkthrough
From StrategyWiki, the video game walkthrough and strategy guide wiki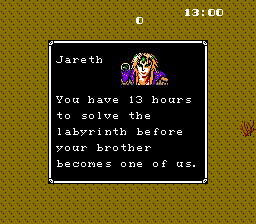 The ultimate goal of the game is to collect all twelve pieces of the key that grants you entrance into Jareth's castle, and the thirteenth final piece of the key that is found inside the castle which grants you access to the cell where Toby is being held. Each piece of the key is contained in it's own area of the labyrinth; that is, one piece in each of the twelve areas. Access between areas is primarily granted by the Wiseman in the center of the Hedge Garden who will typically offer you a choice between two areas in which you have yet to collect key pieces or coins. To travel to those areas, you must leave the center of the maze in the direction that he has indicated, and you will warp to the new area. It is also possible to travel from one area to another, but in most cases, this is only to collect an item that is otherwise unobtainable from the start of that area itself. Other trips between areas are one way, so it's a good idea to have a Crystal Ball available to rescue you and warp you back to the Hedge Garden in case you become trapped.
[edit]
Wiseman
The Wiseman sits in a throne in the middle of the Hedge Garden. The first time you visit him, he will introduce himself to you. Then every subsequent visit, he lets you know how many pieces of the key you have currently collect, and how many remain. Then he offers to sell you one extra hour of remaining time at $10 per hour. You cannot purchase more than 13 hours at any time. Then he will inform you that you can reach certain areas by walking out of the center of the garden in a particular direction. For example, he may say that to reach area 3, you need to head south, but to reach area 4, you should walk west. When you exit out of the center of the garden in these directions, you will be instantly warped to the area that he specified.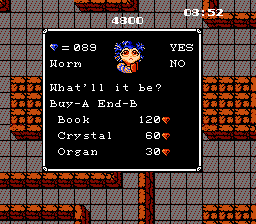 Throughout the game, you will encounter friendly Worm, who offers you some advice and goods for sale. When you first meet him, he will grant you a bit of money and access to the first true area of the game. During subsequent meetings, he will inform you of what still needs to be gathered in the current area, as well as offer to sell various stock items to you. These items include the Music Box, the Crystal Ball, and the Labyrinth Book. At $60, the Labyrinth Book is a pretty good deal. It's only $10 more than what you'd have to pay the Wiseman for the same 5 extra hours, and you get to carry it around with you and use it whenever you want. Stock up on as many as you can afford to.