MapleStory/Towns/Florina Beach
From StrategyWiki, the video game walkthrough and strategy guide wiki
Florina Beach
Region: Victoria Island
Roads: Florina Road & Hidden Street
Level Range: 37-55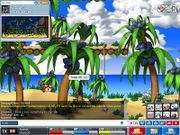 Florina Beach is a very small area. It has palm trees and wooden decks, and is populated by the crab-like Clangs and Lorangs, in addition to Torties and other aquatic life. There is one shop, halfway across the beach, where players can buy most types of food potions. There is one NPC that gives quests there as well.
It was previously involved in a few other quests (which may not be available anymore), namely Omega's VIP ticket quest. The reward for this quest is a VIP ticket to Florina Beach, which allows the holder to traverse back and forth for free. Florina appears on the Victoria Island map, but it may be (not verified) accessed from both Orbis and Ludibrium as well as Lith Harbor. Talking to the NPC Pison will return you to your original location for free.
After the Big Bang, Florina Beach was moved to the southeast coast of Victoria Island where it can be accessed by traveling through Nautilus Harbor.
Monsters
Florina Beach has a Boss monster, the King Clang. It is a giant shelled monster resembling the huge shells seen stuck in the sand across the area. The King Clang will not emerge from its hiding spot amongst these uninhabited shells unless it is attacked. Florina is a favorite training spot of Ice/Lightning Mages, as many of the monsters here are weak to Lightning.

Tortie (39)

King Clang (Defensive) - Boss (42)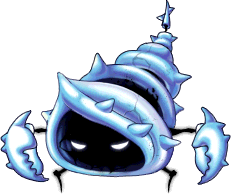 King Clang - Boss (42)
Valen: Grocer
| Name | Effect | Price |
| --- | --- | --- |
| Red Potion | Recover 50 HP | 50 |
| Orange Potion | Recover 150 HP | 160 |
| White Potion | Recover 300 HP | 320 |
| Blue Potion | Recover 100 MP | 200 |
| Apple | Recover 30 HP | 30 |
| Egg | Recover 50 HP | 50 |
| Meat | Recover 100 HP | 106 |
| Orange | Recover 50 MP | 100 |
| Lemon | Recover 150 MP | 310 |
| Fried Chicken | Recover 200 HP | 220 |
| Hot Dog | Recover 300 HP | 320 |
| Pizza | Recover 400 HP | 450 |
| Hot Dog Supreme | Recover +500 HP | 530 |
| Unagi | Recover 1,000 HP | 1,100 |
| Salad | Recover 200 MP | 420 |
| Pure Water | Recover 800 MP | 1,650 |
| Cake | Recover 100 HP+MP | 320 |
| Watermelon | Recover 1,000 HP+MP | 3,200 |
| Ice Cream Pop | Recover 2,000 HP | 2,300 |
| Very Special Sundae | Recover 2,000 MP | 4,000 |
| Subi Throwing-Stars | Attack +15 | 500 |
| Bullet | Attack +10 | 600 |
NPCs
Unique NPCs
| NPC | Location(s) | Notes |
| --- | --- | --- |
| Pison | Florina Beach: A Look-Out Shed Around the Beach | Transport to Nautilus Harbor |
| Rael | Florina Beach: A Look-Out Shed Around the Beach | Quest-Giver |
| Riel | Florina Beach: A Look-Out Shed Around the Beach | Quest-Giver |
| Roel | Florina Beach: A Look-Out Shed Around the Beach | Quest-Giver |
| Valen | Florina Beach: A Look-Out Shed Around the Beach | Grocer |