MapleStory/Towns/Henesys
From StrategyWiki, the video game walkthrough and strategy guide wiki
Henesys
Region: Victoria Island
Roads: Victoria Road, Hidden Street, & Warning Street
Level Range: 1-30
Henesys is a peaceful town in the prairies on the southern section of Victoria Island. Many of its buildings are shaped like mushrooms. The town was supposedly settled by elves and Athena Pierce seems to be one of the last survivors. This is the place to go if you want to go to become an archer. It is one of the most important towns in the game. The leader of Henesys is Chief Stan, an old man with two sons whom both serve important purposes. A character hoping to become a bowman (another word for archer) has to be level 10. The monsters south of Henesys help train players from 10 to 30.
Location
Henesys is on the Southwest side of Victoria Island, between Kerning City and Ellinia. It also used to provide the most direct path to the Dungeon at Sleepywood until Big Bang changed the map.
Henesys is home to the Mushmoms, one of the first bosses a player is usually capable of taking on by themselves. Mushmom is found at a hidden area in Singing Mushroom Forest (which can be seen on the map). A number of event NPCs can be found here. This town is also host to a free market. Many players like Henesys because it has a friendly atmosphere, like that of Amherst on Maple Island.
Henesys is also the only town that is linked to another town without using Six Path Crossway. It is partially linked to The Nautilus, even after Big Bang. Henesys is also the home of another job, Evan, a Dragon Master Magician.
In ThailandMS and GlobalMS, Players can talk to the NPC Thomas Swift to transport to Amoria. In ChinaMS, a monk can transport players to Peach Blossom Island.
At the end of the maps south of Henesys (by the Zombie Mushrooms), players may access Mushroom Castle (a level 30 theme dungeon).
Also, Henesys is also host to a Party Quest, for levels 10 and up. It involves protecting a bunny from waves of monster attacks. The Party quest has a time limit of 10 minutes. Further details are available at the page about party quests.
Monsters

Zombie Mushroom (18)

Mushmom - Boss (19)

Blue Mushmom - Boss (22)

Zombie Mushmom - Boss (25)
Utah's Farm
This is the place where a player starts playing an Evan, the Dragon Master. It introduces the storyline on how Evan found the Dragon near his home near Henesys. Evan is the younger brother of Utah, who gives many quests and takes care of a pig farm.
Golem's Temple
The original birthplace of the Stone Golems. It was once a beautiful temple that they were created to guard, but it now lies in ruin. The Golem Temple is another one of the remains of the once-great Sharenian culture, which ruled over Victoria Island long ago. Despite the fact that it is no longer used, Stone Golems and Mix Golems still guard it with the patience of a rock. The temple often poses a danger to new players, as they encounter Stone Golems not knowing their level.
Monsters
Stone Golem (20)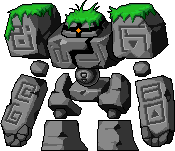 Dark Stone Golem (23)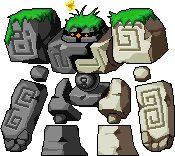 Mixed Golem (26)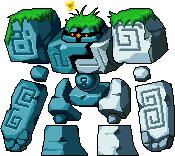 Icy Mixed Golem (26)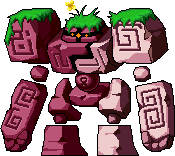 Flaming Mixed Golem (28)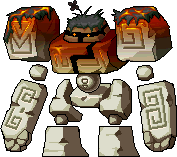 Enraged Golem (40)
NPCs
NPCs that appear in multiple towns
NPC
Location(s)
Notes

Athena Pierce
Found in a big house at the end of Mushroom Park.
First job trainer for Bowmen.

Barry
The 7-Eleven Guy
Victoria Road: Henesys
7-Eleven's advertisement representative. "Oh Thank Heaven!"

Big Headward
Prince
Henesys Hair Salon
Allows you to use Royal Hair Coupons for a random hairdo.

Bruce
Near Mushroom Park's entrance, to the right of Cassandra.
Quests.

Brittany the Assistant
Henesys Hair Salon
Allows you to use Hair Coupons to change hairs.

Camila
Victoria Road: Henesys
Starts quests.

Casey
Henesys Game Park.
The game master. Makes decks of cards and Omok sets if you bring him the right materials.

Chief Stan
Victoria Road: Henesys. Next to the Mushroom Park entrance, left of Maple Admin. To the left of Maple Administrator.
Quest NPC

Cloy
Henesys Park
Deals with Pets.

Denma the Owner
Henesys Eye Care
Eye Surgeon, uses VIP Face Coupons to exchange eyes.

Doofus
Henesys Park, next to Potion shop
Sells Pet Food and Pet Command Guides

Dr. Feeble
Dr. w/o License.
Henesys Eye Care.
Eye Surgeon, uses Face Coupons to exchange eyes.

Dr. Lenu
??.
??.

Jay
Victoria Road: Henesys
Quests.

Karl
Henesys.
Sells equips.

Luna
Henesys.
Sells potions and other consumable items.

Maya
Maya's home.
Quests.

Mia
Victoria Road: Henesys
Known as Tia in MSEA.

Mr. Lee
Storage Keeper
Henesys Park
Allows you to place your items in storage.

Mrs. Ming Ming
Victoria Road: Henesys
Quests.

Ms. Tan
??.
??.

Nana(H)
Love Fairy
Victoria Road: Henesys
Known as Hera in MSEA. Teleprts you to Amoria(MSEA)

Natalie the Owner
??.
??.

Pia
Mushroom Park.
Quests.

Rina
Victoria Road: Henesys
??

Roca
Not a Suspicious Person
Victoria Road: Henesys
"Henesys Agent"; an NPC related to Cygnus Knights. Added in GMS Patch 0.73.

Sam
??.
Sells equips.

Thomas Swift
Amoria Ambassador
Victoria Road: Henesys, upper right side, left of Camila.
Teleports you to Amoria for free.

Tory
To the right of Dalair.
??.

Vicious
??.
??.