MapleStory/Towns/Nautilus Harbor
From StrategyWiki, the video game walkthrough and strategy guide wiki

Major Updates! This MapleStory guide sub-page is in the process of being updated for recent major updates. This page contains a significant amount of outdated information.
Nautilus Harbor
Region: Victoria Island.
Roads: Victoria Road (KoreaMS, ChinaMS, TaiwanMS) / Victoria Road, The Nautilus (GlobalMS, JapanMS, MapleSEA)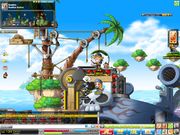 This town is accessed from the path between Henesys and Ellinia. It is a small archipelago of islands with a huge whale-shaped submarine docked at them, near Florina Beach. You can make the job advancement to the class, Pirate, here. The Pirate Job instructor is named Kyrin, and she can be found inside the sub. Henesys is partially linked to Nautilus, while Florina Beach is accessible by Nautilus.
The town went through a large number of revisions. The regular NPCs which can be found in most towns, such as potion and equipment vendors, can now be found here as well. The Nautilus is a well traveled sub which has reached its current location after sailing in from the far side of the current world map. It features a warp portal which can instantly teleport travelers to Omega Sector (For the price of one warp card), which seems to be the source of the ship's technology. The ship's propellers are replaced by Lithium stones from Magatia.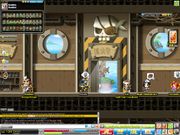 The interior of the ship is extremely large, and Nautilus Harbor currently possesses the largest number of town maps together with no monsters to be found. The ship has three decks. The lowest deck has an engine room, which is almost entirely flooded. Several dolphin-like creatures, called Whalians, swim around the central power source, an enormous hexagonal crystal. This deck seems to be in a state of disrepair, as many crewmembers are patching up the hull and fending off a shark attack. The middle deck is where a player entering the sub first appears. Here, one can gain access to the the conference room, the crew quarters, and several potion sellers. The upper deck has a target range, the Galley, a supply room in which an elderly bird resides, and the bridge, where Kyrin is found. The bridge is also where the portal to Omega Sector is located. Navigating the ship can be confusing at first, but the ship map greatly simplifies things.
Monsters

Pig (7)
Appears in the connector between Henesys and Nautilus Harbor.
NPCs
NPCs that appear in multiple towns
Unique NPCs
NPC
Location(s)
Notes

Abel

Baine

Bart

Bartol

Black Bark

Bonnie

Calico

Dondlass

Etran's Information Board

Gali

Jack

Kyrin

Lord Jonathan

Morgan

Mrs. Reade

Muirhat
File:MS NPC Nautilus' Mid-Sized Taxi.png
Nautilus' Mid-Sized Taxi

Pigmi the Summoner

Porchay

Pupa

Rodos

Rolonay

Serryl

Sharyl

Shiny Stone

Shulynch

Tangyoon

Valerie

Water Filter