MapleStory/Towns/Sleepywood
From StrategyWiki, the video game walkthrough and strategy guide wiki
Sleepywood
Region: Victoria Island
Roads: Sleepywood, Swamp, Drake Cave
Sleepywood is a small town located in the dungeon, at the center of Victoria Island. This town is a resting spot that leads deeper into the dungeon where strong monsters reside. There is a sauna to increase recovery to exhausted travelers. In the regular sauna, Mr. Sweatbottom sells the usual items which could be found in any potion shop in Victoria, except a few items which can only be bought here. In the VIP sauna, Mr. Wetbottom's only purpose is to give you a level 40 quest which culminates in the Sauna Robe. The Mysterious Statue leads you to jump quests. A player can walk to Sleepywood from the Six Path Crossway.
Swamp Region, Drake Cave, Cursed Temple
(OUTDATED)
The Ant Tunnel Dungeon is one of the longest dungeons in the game. At the Ant Tunnel park, a last stop potion shop is located near the entrance portal. The initial platform is safe. It is from a map located off of Ant Tunnel Park that the Zombie Mushmom is found. The VIP taxi, found in Lith Harbor and Ellinia, will bring a player directly to the park for a cost of 10,000 mesos. In one of those caves lies Francis the puppeteer's lair, which a KoC character is required to defeat him for a quest.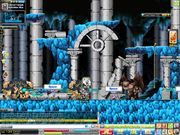 After the Drake's Hunting Grounds map, the ground darkens, and the maps are referred to as having "Lost Light". The monsters are instantly stronger at this point. Drakes roam freely, and as one progresses deeper, they are joined by wild Kargo. The last safe area is the Sanctuary Entrance, where the path splits in two. The upper route leads to Drake's Meal table, where a variety of drake species are found, as well as a map of Kargo. The Ice Drakes and Dark Drakes, the two most powerful species, can be found in a new path off of this area. The lower route involves passing through Cold Eyes and 4 maps of Tauromaci, joined by Taurospears, and culminates in the Cursed Sanctuary, where the legendary Jr. Balrog spawns. The sanctuary was created by the Sharenian, and likely served a special purpose in their society.
Monsters
Underground Temple
An evil spirit was once sealed in this Temple by Tristan, a legendary hero who died in place of Manji because of this evil spirit, Balrog. However, Balrog has been resurrected from the Darkness, the reason behind its resurrection is not known. Upon Balrog's death it mentions that one day his full power will be back, and rule the Maple World again.
Monsters

Baby Balrog (48)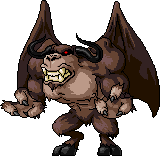 Jr. Balrog - Boss (66)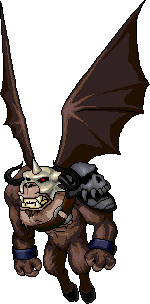 Crimson Balrog - Boss (100)
Balrog - Boss (45)
Regular Sauna
| Item | Price |
| --- | --- |
| Red Potion | 50 |
| Orange Potion | 160 |
| White Potion | 320 |
| Blue Potion | 200 |
| Mana Elixir | 620 |
| Apple | 30 |
| Egg | 50 |
| Meat | 106 |
| Orange | 100 |
| Lemon | 310 |
| Pure Water | 1650 |
| Unagi | 1100 |
| Return Scroll to Sleepywood | 600 |
| Arrow for Bow | 1 |
| Arrow for Crossbow | 1 |
| Subi Throwing Star | 500 |
NPCs
NPCs that appear in multiple locations
Cassandra (Dungeon: Sleepywood; near Mr. Oh)
Eurek the Alchemist (Dungeon: Sleepywood; to the right of Mysterious Statue)
Gachapon (Dungeon: Sleepywood; between Cassandra and Mysterious Statue)
NPCs that need to be added to the list below
Ilji
Ronnie
Dungeon NPCs like Gwin, Spirit, Vendor, old man, Tristan's Spirit, and the samurai guy.
Guy who teaches the ability to scroll unequipped items.
Unique NPCs
NPC
Location(s)
Notes

Chrishrama
Item Creator
Dungeon: Sleepywood

Hotel Receptionist
Dungeon: Sleepywood Hotel
Transports you to Dungeon: Regular Sauna (499 mesos) or Dungeon: VIP Sauna (999 mesos).

Mr. Oh
Storage Keeper
Dungeon: Sleepywood

Mr. Sweatbottom
Sauna Manager
Dungeon: Regular Sauna
Mr. Wetbottom's twin. Previously named Pat Schwetty.

Mr. Wetbottom
Sauna Manager
Dungeon: VIP Sauna
Mr. Sweatbottom's twin. Previously named Jack Schwetty.

Mysterious Statue
Dungeon: Sleepywood

Sabitrama
Dungeon: Sleepywood

The Rememberer
Dungeon: Sleepywood