Marvel Ultimate Alliance 2/Hulk
From StrategyWiki, the video game walkthrough and strategy guide wiki
Attributes
Level
Strike
Team
work
Body
Focus
2
10
2
19
6
30
46
24
49
28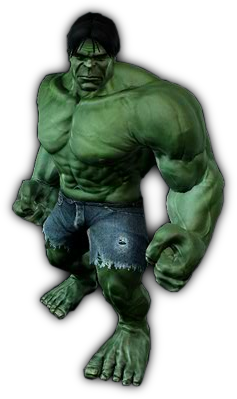 Available: Find five (5) Gamma Regulators scattered on various maps.
Flying?: No
Heroic Deeds
Defeat 3 foes with a single non-Fusion attack (Boost)
Defeat 50 foes (Costume)
Defeat Moonstone and A-Bomb (Boost)
Hulk is one of the better tanks in the game. He has the requisite charge, ground pound and area-of-effect Powers; what really sets him apart is his debuff, Gamma Roar. By first reducing mobs' resistance, Hulk's Powers are that much more effective. You can also clear a room quickly by just pounding the ground with Raging Smash, keeping foes off their feet (not to mention off your back) as well as damaging them. Build up Raging Smash and Gamma Roar first and boost his Focus so you can spam his Powers. Dashing Tackle is a decent boss-killer, so keep that one leveled up as well.
[edit]
Powers
[edit]
Raging Smash
(Rapid tap) Hammers the ground, knocking down enemies.
[edit]
Thunder Clap
Tremendous clap generates a concussive blast.
[edit]
Dashing Tackle
Pins an opponent and pummels them mercilessly.
Requires level 5.
[edit]
Gamma Roar
Stuns foes with a mighty roar.
Requires level 10.
[edit]
Abilities
[edit]
Unbridled Might
Lifts huge objects and resists knockback.
[edit]
Monstrous Form
Raises maximum hit points.
[edit]
Rage Unleashed
Raises damage with all attacks.
Requires Pro-Reg.
[edit]
Survival Instinct
Allows more frequent use of powers.
Requires Pro-Reg.
[edit]
Furious Fists
Raises melee attack damage.
Requires Anti-Reg.
[edit]
Impervious body
Resists all incoming damage.
Requires Anti-Reg.