Marvel Ultimate Alliance 2/Invisible Woman
From StrategyWiki, the video game walkthrough and strategy guide wiki
Attributes
Level
Strike
Team
work
Body
Focus
2
3
6
7
21
31
26
43
33
50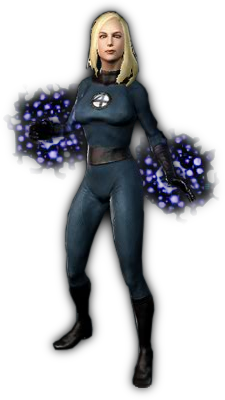 Available: At the beginning of Castle Doom.
Flying?: No
Heroic Deeds
Defeat 5 foes with a single non-Fusion attack (Boost)
Defeat 50 foes after choosing Anti-Reg (Costume)
Perform 5 high scoring Fusions with Mr. Fantastic (Boost: FantasticTeam)
Think of Sue Storm as Jean Grey-lite. While their Powers are not mirror-images, they have the same basic usefulness – clearing a room and adding huge damage to Fusions with a high Teamwork score. Pairing Sue and Jean on the Femmes Fatales team is almost unfair to the mobs you face. Of her Powers, Crushing Force and Invisible Mine are the ones to keep leveled up the highest and boost her Teamwork and Focus.
[edit]
Powers
[edit]
Kinetic Sphere
You make a powerfull forcefield sphere that can be used as a trap and deals large damage weaker to enemies and a shield for butllets.
[edit]
Binding Field
You unleash a spread out force that deals moderate damage to many enemies.
[edit]
Crushing Force
Requires level 5. You make a large circle above yourself that deals strong damage to enemies near you.
[edit]
Invisible Mine
Requires level 10. You make an invisible mine that the enemies aren't aware of and you stay invisible for a while.
[edit]
Abilities
[edit]
Concentration
[edit]
First Family
[edit]
Force Mastery
Requires Pro-Reg.
[edit]
Combat Rush
Requires Pro-Reg.
[edit]
Crushing Strikes
Requires Anti-Reg.
[edit]
Precise Aim
Requires Anti-Reg.