Marvel Ultimate Alliance 2/Jean Grey
From StrategyWiki, the video game walkthrough and strategy guide wiki
Attributes
Level
Strike
Team
work
Body
Focus
2
5
9
7
13
33
30
48
38
50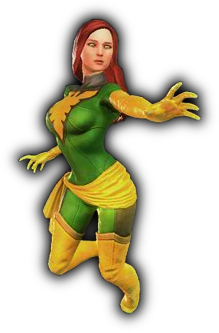 Available: Find five (5) M'Kraan Fragments scattered on various maps.
Flying?: Yes, continuous
Heroic Deeds
Defeat 50 foes (Costume)
Defeat 5 foes with one non-Fusion attack (Boost)
Perform 5 high scoring Fusions with Wolverine (Boost)
Remember the scene at the end of X-Men 3: Last Stand where Jean Grey (as Phoenix) incinerates an entire army? That is what you'll think of Jean when you first unlock her – able to blast through whole armies single-handedly. The euphoria doesn't last; as the game progresses, Jean's weaknesses begin to shine through. For one, she doesn't have a single-target attack that works well against the strong minions and mini-bosses. All her best attacks are area-of-effect blasts. Also, she can't take much punishment and will eat Health Tokens.
Despite those problems, you may have a hard time giving her up. Her Pyrokine Blast has great range and affects enemies in a wide arc in front of her (~100-120°), and knocks them back. That same power can blow up huge numbers of health containers, providing a fairly constant stream of red orbs to your party. Add that PkB is a quick-firing blast and you have a real winner.Also her phoenix Fury is Amazing it lift or make the Foe's immobile and burn them to death like she did on X-Men Last stand at the End

Add in her ability to self-resurrect (which doesn't count as a "revival" for those awards) and her high Teamwork score – making her an excellent partner for any kind of Fusion – and Jean is a nearly indispensable hero on your team. She is one of the three characters that hit more than once in her targeted fusions, scoring great damage.
[edit]
Powers
[edit]
Telekinetic Grip
Overcomes foe's crushing resistance. tap to control and throw the enemy.
[edit]
Restraining Wave
Stuns foes with a mental blast
[edit]
Pyrokine Blast
Manifest a searing wave of psionic energy.
Requires level 5.
[edit]
Phoenix's Fury
Rapidly burns foes held immobile by telekinesis.
Requires level 10.
[edit]
Abilities
[edit]
Resurrection
[edit]
Uncanny X-Man
[edit]
Psionic Mastery
Requires Pro-Reg. Raise Damage for all power attacks
[edit]
Combat Rush
Requires Pro-Reg. Gain stamina for every defeated foe
[edit]
Fiery Strikes
Requires Anti-Reg. Add fire dame to melee attack
[edit]
No Mercy
Requires Anti-Reg. Gain extra hit point when defeating foes