Marvel Ultimate Alliance 2/Juggernaut
From StrategyWiki, the video game walkthrough and strategy guide wiki
Attributes
Level
Strike
Team
work
Body
Focus
2
13
2
10
6
31
50
25
47
30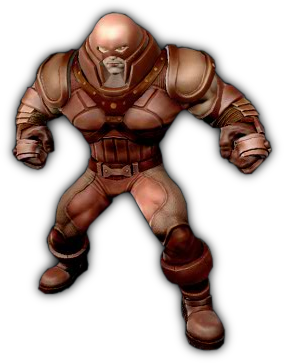 Available: Juggernaut is only available as a pre-order bonus. If you pre-ordered the game and received your Juggernaut code, you can download him from the PlayStation Store/Xbox Live Marketplace and use him beginning with Castle Doom.
Flying?: No
Heroic Deeds
Defeat 5 foes with a single non-fusion attack (Boost)
Defeat 300 foes (Costume)
Use Ramming Dash 100 times (Boost: Unstoppable)
A "fast tank" that's a lot of fun to play. His Ramming Dash works like a guided fusion; knocking nearly everything out of his path. However the attack can be difficult to steer. Using both joysticks while using this move helps.
His move-set is particularly good at clearing and controlling crowds. While no one move has 1k damage, two of the four of Juggernaut's abilities allow him to attack more than once. Cyttorak Spin and Ramming Dash both cause "knockback" while Drop Smash stuns non-robotic enemies with a chance to crit.
Earth Shaker may be Juggernaut's most undervalued power. It's a particularly valuable attack due to its range, stacking damage and stun. The shock-wave from the attack can catch non-robotic foes, doing literal waves of damage and leaving them either KO'd or stunned.

One downside is that he doesn't have a go to "Boss killer" move, however, due to his outstanding defense, you can just as easily take most bosses down simply by soaking up damage and spamming moves. Also, many characters share a targeted fusion when paired with him. Another negative is that Drop Smash is rather slow and becomes diminished when facing robots, due to the best trait of Drop Smash being its stun. More to that effect, Earth Shaker is less effectual against robots as well as they do not get caught by the stun and damage in turn, does not stack.
Overall, Juggernaut lacks some of the oomph that some others have, but he can still deliver. His defense is excellent and he's a fun character to play.
[edit]
Powers
[edit]
Ramming Dash
[edit]
Drop Smash
[edit]
Cyttorak Spin
Requires level 5.
[edit]
Earth Shaker
Requires level 10.
[edit]
Abilities
[edit]
Supreme Might
[edit]
Destructive Glee
[edit]
Mystic Mastery
[edit]
Impervious Body
[edit]
Armored Fists
[edit]
Crimson Armor