Miner 2049er/Level 6: The Radioactive Waste
From StrategyWiki, the video game walkthrough and strategy guide wiki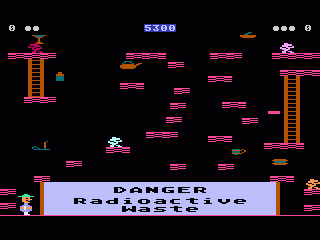 Note: The screen presented here is from the Atari 5200 and Atari 800 versions of the game. If you are playing the game on a different system, some of the points mentioned below may not apply.
[edit]
General Strategy
This stage has obviously earned its name from the large vat of radiactive waste that sits front and center at the bottom of the stage. Contact with the contents is lethal. This wouldn't be so troublesome if the jumps in the stage weren't so precarious. This stage also features some of the most difficult leaps found in the game.
From your starting point in the lower left corner, you will jump from island to island to reach the center of the stage. Clearing the center and the upper right corner of the stage is a simple matter compared to the remainder. To reach the upper left corner, you will need to board the tiny floating platform and ride it across the stage, jumping for the ledge when you get close enough. Then you must ride the platform to get back. When you are finished with everything else, you can complete the lower right corner, it is safest to drop above the tea cup, to the ledge below. This is a one way trip, so only take it when the rest of the stage is complete. Now you can finish off the remaining islands.
[edit]
Critical Points
Some of the leaps are only possible if you are standing as close to the edge of an island as possible before jumping. This is especially true of the jumps in either direction of the column of three small islands towards the center of the stage.
Getting to the set of framework in the upper left corner can be tricky, but getting off of it is even trickier. It requires that you wait at the very edge of the bottom island until the tiny floating platform gets just close enough for you to fall on to.
As mentioned above, in order to get to the lower right islands, you must fall from a platform above. Once you do this, there is no way to get back, so if you missed a section of framework above, you can not complete the stage.
[edit]
Conversions