From StrategyWiki, the video game walkthrough and strategy guide wiki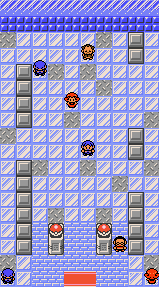 Price, the cold-hearted Gym leader, will be your challenge for the seventh gym badge. He specializes in Ice Pokémon, so get your fire and fighting types ready! But don't think he's going to be easy to get to. you need to get through the maze that is set forward!
How to get to Pryce
[
edit
]
There are many ways to get to Pryce, here are 2 of them:
Start at the in the middle right hand side (in between the 2 pillars on the right) and go up, left, up, right, down, left, up and then right.
When you first walk in go to your left and there should be a blue haired guy. Fight him and go up, right, up, left, down, down, left, up and finally right.
You should face all of the trainers before facing Pryce to see how you will do and get a lot of money and vital experience points.
Trainers
[
edit
]
After you Defeat Pryce, he gives you Glacier Badge and TM 16 - Icy Wind.
Aftermath
[
edit
]
When you go outside and Professor Elm will call about a radio broadcast about Team Rocket, it's coming from the Goldenrod station, so head there and prepare for battle against the Rockets!