Pokémon Gold and Silver/Olivine Gym
From StrategyWiki, the video game walkthrough and strategy guide wiki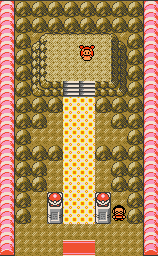 After you get back from Cianwood, go to Jasmine in the lighthouse and give her the medicine for Ampharos. She will return to her gym after healing Ampharos and you can challenge her there. She uses Steel-type Pokémon, so Fire, Ground, and Fighting are three recommended types to fight her with, since all three types of moves are super effective against her team.
Leader

Leader Jasmine: 3500
After you defeat Jasmine, you'll receive the Mineral Badge and Iron Tail (TM 23).