Pokémon Gold and Silver/Route 36-37
From StrategyWiki, the video game walkthrough and strategy guide wiki
The next two roads are short, but they lead in many directions and join several areas together. The tree you couldn't get past is still there, but this time you have the Squirtbottle from Goldenrod City. When the tree is gone, you'll finally be able to move on to the next area.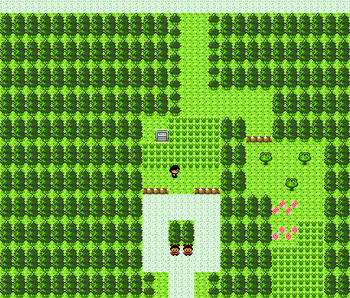 [edit]
Trainers and Items
Trainers
Items
Twins Ann & Anne: 320

Black Apricorn
Blue Apricorn
Red Apricorn
Magnet (Sunday)
Ether

Psychic Greg: 544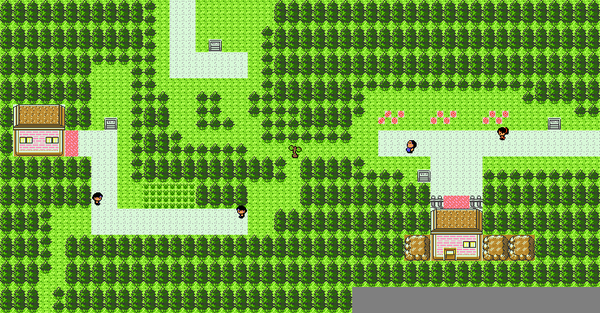 [edit]
Trainers and Items
Trainers
Schoolboy Alan: 512 (Phone)
Psychic Mark: 480
Items

TM08 (Rock Smash)
Hard Stone (from Arthur on Thursday)
[edit]
Route Features
[edit]
Trade numbers for a Fire Stone
Elemental Stones are phenomenally rare, but junior trainer Alan doesn't have any problem finding them. After you beat him, give him your phone number, Eventually, he'll call and offer you a free Fire Stone, no strings attached!
[edit]
Water (and capture) the Sudowoodo
Shortly before a tree in the middle of the path, you'll find the daughter of the Flower Shop woman in Goldenrod City. Talk to her, then head back to see her mom in Goldenrod City and get the Squirtbottle. Take that to the "tree" blocking the path and give it a squirt. When you use the Squirtbottle on the weird tree, it will attack you. It's not a tree at all—it's Sudowoodo, a Rock-type Pokémon that looks like a tree! It's the only place that Sudowoodo shows up. Attack—capture it carefully, since if you K.O. it, it's gone for good.
[edit]
More free stuff
The "tree" wasn't too popular, and the man to the right of it will give you TM 08 just for uprooting it. It contains Rock Smash, which breaks certain rocks that you'll soon encounter, and deals Fighting-type damage while lowering opponents' Defense in battle.
[edit]
Three Apricorn Trees
The trees south of the entrance to Ecruteak City contain Red, Blue, and Black Apricorns, which can be made into Level, Lure, and Heavy balls by Kurt in Azalea Town. Like all Berries, they grow back every day.
[edit]
Mr. Thursday and Mr. Sunday
Talk to Arthur, who appears above the Ruins of Alph on Thursdays, to get a Hard Stone, which powers up Rock attacks (go Sudowoodo!). Talk to Sunny below the Apricorn trees on Sunday for a Magnet, which beefs up Electric moves.
[edit]
Pokémon found
Route #36 encounters
Gold
Silver
Crystal
Morn
Day
Night
Morn
Day
Night
Morn
Day
Night
Pidgey
30%
30%
N/A
30%
30%
N/A
25%
40%
N/A
Nidoran♀
20%
20%
20%
20%
20%
20%
N/A
N/A
N/A
Nidoran♂
20%
20%
20%
20%
20%
20%
N/A
N/A
N/A
Vulpix
N/A
N/A
N/A
20%
20%
20%
N/A
N/A
N/A
Growlithe
20%
20%
20%
N/A
N/A
N/A
20%
30%
N/A
Hoothoot
N/A
N/A
30%
N/A
N/A
30%
N/A
N/A
30%
Stantler
10%
10%
10%
10%
10%
10%
N/A
N/A
?%
Ledyba
N/A
N/A
N/A
N/A
N/A
N/A
25%
N/A
N/A
Bellsprout
N/A
N/A
N/A
N/A
N/A
N/A
30%
30%
20%
Spinarak
N/A
N/A
N/A
N/A
N/A
N/A
N/A
N/A
30%
Gastly
N/A
N/A
N/A
N/A
N/A
N/A
N/A
N/A
20%
Route #37 encounters
Gold
Silver
Crystal
Morn
Day
Night
Morn
Day
Night
Morn
Day
Night
Ledyba
N/A
N/A
N/A
30%
N/A
N/A
20%
N/A
N/A
Ledian
N/A
N/A
N/A
N/A
N/A
N/A
5%
N/A
N/A
Pidgey
50%
30%
N/A
40%
30%
N/A
20%
50%
N/A
Pidgeotto
N/A
10%
N/A
N/A
10%
N/A
5%
20%
N/A
Growlithe
30%
15%
10%
N/A
N/A
N/A
50%
30%
N/A
Vulpix
N/A
N/A
N/A
15%
15%
15%
N/A
N/A
N/A
Stantler
20%
45%
40%
15%
45%
15%
N/A
N/A
50%
Hoothoot
N/A
N/A
20%
N/A
N/A
70%
N/A
N/A
20%
Noctowl
N/A
N/A
N/A
N/A
N/A
N/A
N/A
N/A
5%
Spinarak
N/A
N/A
30%
N/A
N/A
N/A
N/A
N/A
20%
Ariados
N/A
N/A
N/A
N/A
N/A
N/A
N/A
N/A
5%
| #185 Sudowoodo | #234 Stantler |
| --- | --- |
| This odd tree creature is the game's only pure-Rock Pokémon, which is kind of cool. With a good Attack and Rock's traditional high defense, Sudowoodo is the worst nightmare of Fire, Ice, Flying and Bug-types. Just keep it away from Water, Grass, Ground and Fighting-type Pokémon. | This feral antelope has uniformly solid stats and particularly high Attack and Speed scores. It can learn a couple of decent Normal attacks (Stomp at 23 and Take Down at 40), but its moves are otherwise on the weak side. Since it can't evolve, and there are better Normal-types out there, it might not be a good idea to spend a lot of time leveling up this one. |
| #37 Vulpix | |
| While Gold players are gaining the ability to collect a Growlithe for the first time, Silver players can now collect Vulpix. While not as powerful as Growlithe, Vulpix and Ninetales are a bit quicker, and sometimes that makes all the difference. They haven't changed much, but at least now Ninetales keeps learning moves after it's evolved. | |