ROSE Online/Dealer
From StrategyWiki, the video game walkthrough and strategy guide wiki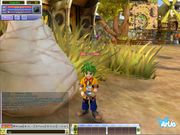 Dealers are the money-making class of ROSE. They typically use guns or launchers in combat, which use bullets and canon balls, because of that dealers could be rather expensive to level. Dealers are also skilled in crafting items. The dealers main stat is their concentration, mixed with sensibility. They can later change classes to become either an artisan (crafting) or bourgeois (money maker).
[edit]
Becoming a Dealer
To become a Dealer, you must be level 10. Once you've hit level 10, travel to Zant and speak with Warren located slightly WEST of the entrance of the City of Zant. He'll send you to Crow to learn about the essence of trade. Crow is located at the NORTH-WESTERN section of the City of Zant, across a bridge. He'll will send you to collect 5 Fleece & 5 Small Metals Boards. Fleece can be obtained by talking Lampa located on a farm in North Western Zant. Metal Boards can be obtained from Seyon located in Adventurer Plains. Once you've obtained those items, Crow will ask you to collect 15 Needle Stings dropped by Needled honeybees at the Valley of Lexum Tower. After you've collected the items, talk to Crow and he'll send you to Warren who will advance you as a dealer.
[edit]
Stat Distrubution
When becoming a dealer, one must consider which 2nd Job they will need to choose from. As an Artisan, their main stat distribution would be Concentration. Charm and Sensibility is also needed but not as much as Concentration Bourgeois are the offensive version of Dealers and typically need Dexterity .Concentration is also needed but not as much as Dexterity. No other stats are necessary.