Seiken Psycho Calibur/Area 8
From StrategyWiki, the video game walkthrough and strategy guide wiki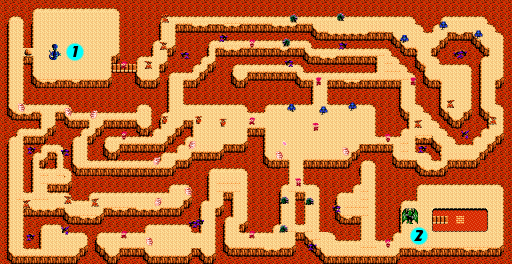 [edit]
Objectives
[edit]
Defeat Gorgon
Unlike the complicated area that you were just in, this is more of a straight forward area like Area 5 or Area 6. Your only objectives are to beat the two bosses and leave. And that fine because this is a challenging area with difficult enemies. You should also beware of the edges of the landmasses which are slick like the glaciers in the sixth area. If you step too close to certain edges, you will fall in the lava and die.
Your first goal should be the Gorgon in the upper left corner (labeled 1 on the map.) To reach it from the start, you'll need to head all the way east before traveling north, and then follow the path all the way back to the west where you can cross a bridge. On the other side will be the Gorgon. You can actually park yourself at the foot of the bridge and have a relatively safe place to attack the Gorgon from. Your sword can poke the boss through the gap if you face north. Summoning Pipi will also help defeat Gorgon faster. Collect the blue tear stones that it leaves behind.
[edit]
Defeat Gargoyle
From the Gorgon's home, you must now travel to the opposite corner of the map. Return to your starting location, take the south path, and follow it down and to the right. You will encounter the Gargoyle here. This fight is considerably easier, given the limited range that the Gargoyle can move in. It offers a number of safe locations, including standing on the dock, or simply by the entrance. The dock method is a little slower than the entrance method, but the entrance method does not fully protect you. Despite that, the chances of the Gargoyle approaching the entrance just right so that it can fit inside are small. Use Pipi again to shoot projectiles at it, since it has a high likelihood of getting stuck along the bottom row. When it is defeated, collect the blue tear stones. After defeating this boss, you should now be at the highest level of Force possible, and you will gain access to the final sword power, the Wave Sword. As soon as you can summon Pipi, shoot a Wave Sword projectile at the brick wall to the right of the dock, and a stairwell will appear that leads to the final area.