Spectrobes/Excavation
From StrategyWiki, the video game walkthrough and strategy guide wiki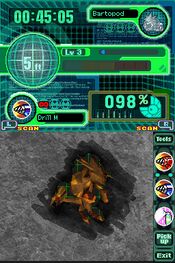 Excavation is a vital part of the game. You obtain all of your Spectrobes and Minerals to feed the Spectrobes by un-earthing them. To find an item (fossil, cube or mineral) buried underground, stand above an area, and press and hold the

or touch the stylus to your child Spectrobe on the screen, to scan the surrounding area. If you locate something, there will be a yellow (Fossil), blue (Mineral) or rainbow (Cube) flash signifying the item. To get to the excavation screen, tap on the flash you would like to dig up. On the excavation screen, you must tap the stylus on the screen multiple times to break aay layers of dirt and rock to reach the item. After a certain point, part of the item sticks out from the dirt. From here, select a tool from the right-hand side of the screen, and place the stylus on the screen. Drag and scribble the stylus around to gradually wear the layer of dirt away. On the upper screen are many pieces and meters. The first at the top corner is the amount of time you have been excavating the item. The next in the top right corner tells what you are digging up (After scanning by holding down the

or

buttons). The next set of information tells the depth, your excavation level, the item's damage level (If you damage an item too much while excavating, you will fail to excavate the item), the next below tells the stress level that you are putting on the fossil (You generally want to stay out of the red or you will damage the item) and the two below tell your current tool and the percentage of completion. (Note:You can pick up the item once above 95% completion)
Drill L: A powerful drill used mainly for excavating around an object. Can also be used for speedy excavation of a mineral, however it is easy to destroy minerals and fossils with this.
Drill M: Used to remove dirt and rock from atop an object.
Drill S: Used to access hard to reach areas.
Giga Tool: Automatically excavates minerals using a laser. If you have successfully excavated a mineral by hand, it will excavate perfectly every time. If you have not excavated the mineral by hand, it destroys the mineral. When using this tool you earn no experience points. This can be used on fossils without destroying them, but the completion % must be at least 86% for guaruantied excavation or at least 30% for ten percent chance of success, however if you fail the fossil will crumble to dust and if you succeed their are no custom parts. You will receive no bonus minergy using this tool
Solvent: Used to remove rock and dirt from tight areas. Best used in combination with the Recovery tool to get a fossil with no damage. Watch the stress meter when using this; it increases slowly enough for you to keep it out of the red.
Blast Tool: Explosively excavates objects with one shot. There is a low success rate and you earn no experience points or bonuses when using this tool. Even if it is successful, the mineral or fossil will be heavily damaged. Works best if the mineral or fossil is buried deep.
Blower: Used to blow away dust and debris from an object. You can also blow into the microphone to blow away the dust and debris when using any tool expect the sonic tool.
Sonic Tool: Gently excavates using sound waves. Activated by speaking into the microphone. This tool cannot damage the fossil or mineral, but it takes around 3 minutes and you can get short of breath when using it.
Recovery Tool: Used to slightly fix damaged fossils. Has a max usage of four times. Use it after excavating a fossil with solvent to get an undamaged fossil that comes with a custom part.