The Return of Ishtar/Library
From StrategyWiki, the video game walkthrough and strategy guide wiki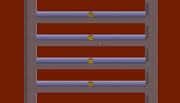 Ki and Gil will enter this room through the door up at the top of it. It contains two Wizards (which take 5 hits), and eight Black Oozes (which take 96).
This room, like the left side of Empty Cistern, wraps around vertically - and if you proceed in either direction, you will end up back where you started.
The Book up at the top-centre of the room - like the Fork, Trophy and Beaker - can only be collected by Gil, as Ki will just walk through it as if it was a hologram; however, like the second of these items, it will not have any noticeable effect on him. It may make you wonder whether it is worth getting it.
The key at the bottom-centre of the room opens the door at the bottom of the room. The first and second keys at the top-left and top-right of the room do not open any of the doors in the room, meaning that there are no keys for the other doors up at the top, top-centre and bottom-centre of the room.
That door at bottom of the room, like the second one at the centre of Museum, leads to Audience Hall (Room Pass: Q39 - same as Druaga's Grave).