The Wing of Madoola/Stage 5
From StrategyWiki, the video game walkthrough and strategy guide wiki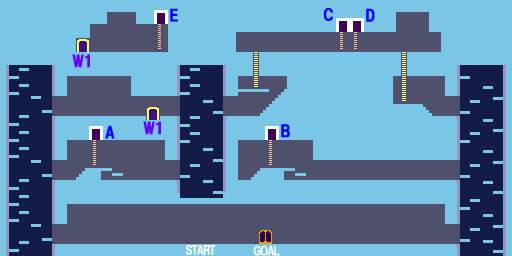 | | | | | |
| --- | --- | --- | --- | --- |
| | | | | |
| Dopipu | Nipata | Kikura | Nomaji | Fire |
[edit]
A round trip
You begin at the bottom of this stage, and the goal is located just to the right of the start. It is safe to describe the best method to proceed through this stage as a clockwise trip along the left, to the top, and around to the right and back down. Some of the enemies can be difficult to avoid in close quarters, such as the Nomahi and the Nipata, but there are no boss-class enemies roaming the hallways, so you don't have to worry about losing health too quickly if you are hit.
[edit]
Recommended route
From the starting point, head into the vertical shaft on the far left. Climb up until you reach the hallway one floor up and proceed to the right. Climb up the ladder and enter door A to collect the first life increasing Jar. Exit and climb back down and continue to the right until the reach the next shaft. Climb up to the floor above and enter warp door W1. On the other side of W1, run to the right to reach door E where you will face the stage boss, the Zado Fly, and collect the Ball before returning to W1 (see below).
Once you return from W1, head right and jump across the shaft to the other side. Climb the stairs in order to reach the ladder and climb up to the top floor. Proceed to the right until you find doors C and D. Enter each one to collect the second Flame Sword and Magic Book respectively. Then continue right until you reach the ladder. Climb down and continue over to the vertical shaft on the far right. Drop all the way to the bottom floor (there is nothing to collect behind door B), and run left to the stage goal door.
[edit]
Boss: Zado Fly

HP: 1290
Power: 400
The Zado Fly moves similarly to the Suneisa, except that it will originally appear in the flying through the air. As it flies, it drops down to the ground. Once it touches down it dashes towards Lucia, but does not toss any fireballs. If Lucia jumps over it, it will continue running away. Equip the Flame Sword in order to attack it safely.
One possible way to safely attack the Zado Fly is to hang out on the platform beneath the entrance, and let the Zado Fly approach from the right. It will drop down to the floor and run to the left until it hits the wall. Then it will return to the right. Once it passes below the platform that Lucia is standing on, drop down and intercept the Zado Fly before it has a chance to run away. Continue to strike it until it is successfully defeated, and collect the Ball in the inner chamber.