Warcraft III: Reign of Chaos/The Fall of Silvermoon
From StrategyWiki, the video game walkthrough and strategy guide wiki
[edit]
Mission Objectives
Main Quest - The Sunwell

Defeat the Sunwell's Guardians.
Optional Quest - Sylvanas Windrunner

Destroy Sylvanas' base.
Optional Quest - Silvermoon Runners

Eliminate every runner Sylvanas sends.
Do not alert Silvermoon to your presence.
[edit]
Starting units
For this mission you will start with 3 Crypt Fiends, 1 Necromancer, 5 Acolytes harvesting gold from a Haunted Gold Mine, 2 Ghouls chopping wood and Arthas.
[edit]
Destroy Sylvanas

As soon as you start this mission you will be attacked by Sylvanas at the northern entrance of your base you will have to defend against. Once you have defeated Sylvanas upgrade your Halls Of The Dead to a Black Citadel so you can train gargoyles. You will need to build Ziggurats at the southern and western entrances to your base to upgrade into Spirit Towers for defensive purposes. Start training either Crypt Fiends or Gargoyles as soon as your can. Soon after you start the mission you will see a cutscene of a Runner heading to Silvermoon from Sylvanas' base. During this cutscene you will see the units you will use to kill the runners, Gargoyles, attacking the runner. Every time you see a runner head out you must kill him if you want to have an easier time with this mission. If a runner reaches Silvermoon they will be alerted to your presence and will send units to attack you making things difficult for you.To prevent runners from leaving Sylvanas' base you must destroy it. This will be a difficult task, you will need many Crypt Fiends: about a unit and a half of them to destroy the base. Sylvanas has 2 Priests, 2 High Elven Archers, 2 High Elven Swordsmen, 1 Sorceress and a ballista. Once you have destroyed the base you will trigger a cutscene that shows Arthas turning Sylvanas into a banshee. Once this is done you will see a Hood Of Cunning; pick it up to add 4 to Arthas' intelligence and agility.
[edit]
Easy way to win
If you leave some of Syvanas' Villagers alive while destroying the base you can afterwards use a Banshee to possess one. Use the villager to build a Town Hall and upgrade it until it becomes a Castle. Then build an Alter of Kings, you may now build as many human Heroes as your population and resources will allow. An unstoppable force can be made up for many Paladins all using level 1 Divine Shield, but the other heroes may be used, too.
[edit]
Preparations for Silvermoon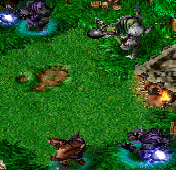 When you are done with Sylvanas, have some Acolytes come in to haunt the gold mine for some extra income and build a second base. When you have finished your second base you can wait and build up your resources and upgrade your attack and defense if you haven't done so yet. You can sit and wait while your resources build up and not worry about the silvermoon defenders attacking you as they don't know you're there unless a runner got by you. There are monsters you can attack while you are waiting for your resources. A couple of golems to the north of your main base, 4 gnolls to the south of your main base, 4 gnolls south of your second base and 2 forest trolls with 3 ogres by a mercenary camp north of the eastern part of silvermoon. The gnoll overseer to the south of where Sylvanas had her base drops a potion of greater mana, the gnoll overseer to the south of your first base drops a scroll of the beast, and one of the golems drops a ring of regeneration. Before you go to Silvermoon make sure that you have either Crypt Fiends with the web ability or Gargoyles to take care of the Dragon Hawks that are around the city. if you wish to use units that only fight ground based units it is recommended that you have a couple Crypt Fiends, Necromancers, Banshees or Gargoyles to take care of the Dragon Hawks otherwise they will wreak havoc on your units with only Arthas able to combat them with his Death Coil spell.
[edit]
And now Silvermoon

Now to deal with Silvermoon, you will need at least 2 full groups of units trained. it is recommended that you enter on the western side of the base as there is a Archmage on the eastern side of the base. when you are running through the base you only need to clear a path to the sunwell in the center of the base and clear the guardians just focus on the golems once they are dead you can move Arthas to the Circle of Power to complete the mission.