Jump to navigation
Jump to search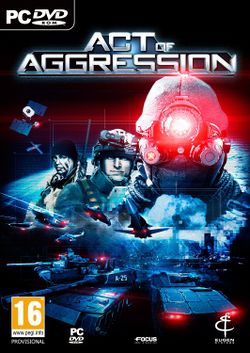 Act of Aggression is a real time strategy game produced by Eugen and published by Focus Interactive. It is a real-time strategy game hailing from the Golden Era of RTS with a few modern twists.
It plays similarly to older real time strategy games, though on larger scale battlefields than its contemporaries. The game follows the United Nations-backed Chimera task force as they ally with the USA and fight a mysterious enemy called the Cartel.
Intended to be a throwback to the golden age of RTSes, the game has had a number of difficulties attracting its intended audience. Critics have cited difficult unit control, a poor single player campaign, high price point, and lack of tutorial to make it a difficult game to understand. It has often been compared to Command & Conquer: Generals.
Resource management and aircraft handle considerably differently than other similar games. It has more in common in this regard to Eugen's other games, the Wargame series.
Unlike Wargame: Red Dragon, Act of Aggression has been stated to not support naval units.
Table of Contents
Chimera: Operation Eclipse
Cartel: Beyond the Mirror