Jump to navigation
Jump to search
This is the first game in the Animal Crossing series. For other games in the series see the Animal Crossing category.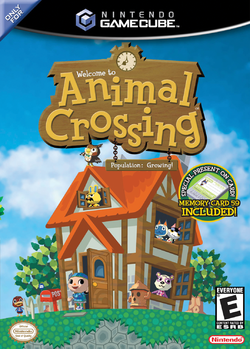 Animal Crossing is a simulation game developed by Nintendo EAD and published by Nintendo. It was originally released exclusively in Japan as Animal Forest (どうぶつの森 Doubutsu no Mori?) for the Nintendo 64 on April 14, 2001. It was then ported and re-released for the Nintendo GameCube in December, 2001, again exclusively in Japan, as Animal Forest+ (どうぶつの森+ Doubutsu no Mori Purasu?). It was later released in other countries in 2002-2004. A final version, titled Animal Forest e+ (どうぶつの森e+ Doubutsu no Mori ii Purasu?), was released in Japan in 2003.
Animal Crossing is the first game compatible with the short-lived e-Reader.
As a real-life simulation video game, Animal Crossing revolves around you—the player—as you live day-by-day in a town full of animals. However, up to four humans can live in a town at a time. Just like the real world players must run errands, earn money, and even pay debt. This game then birthed a sequel with the Nintendo DS game, Animal Crossing: Wild World (おいでよどうぶつの森, Come to Animal Forest).
Artwork
Table of Contents
Customize Your Life
Multiplayer