Jump to navigation
Jump to search
The Xbox 360 is the follow-up to the Xbox, and is currently the third newest console on the market.
Eighteen launch titles were available for customers in the United States, Canada and Puerto Rico on November 22, 2005. The European countries had seventeen titles available for the launch date of December 2, 2005. Japanese customers, however, only had six titles to choose from by the time the Xbox 360 was released on December 10, 2005. This discrepancy is partially accounted for by the time needed to localize the games.
Xbox Originals
[
edit
]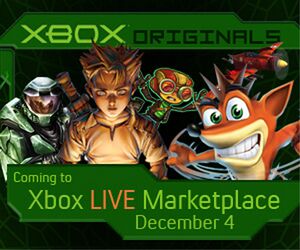 Xbox Originals is a download service introduced in 2007 for the Xbox 360 that allows users to purchase and download Xbox games directly to their hard drive. The games are unaltered from their original releases and function the same as if the disc had been inserted in the Xbox 360.
Kinect (originally code named Project Natal) is a "controller-free gaming and entertainment experience". Based around a webcam-style add-on peripheral for the Xbox 360 console, it enables users to control and interact with the Xbox 360 without the need to touch a game controller, through a natural user interface using gestures, spoken commands, or presented objects and images. The project is aimed at broadening the Xbox 360's audience beyond its typical gamer base. Kinect competes with the Wii Remote with Wii MotionPlus and PlayStation Move & PlayStation Eye motion control systems for the Wii and PlayStation 3, respectively.
Kinect was originally only supported by the Xbox 360; in 2011 it was also made compatible with Windows 7 and the upcoming Windows 8. Microsoft will be releasing an updated Kinect peripheral specifically designed for computer use along with a firmware update to make the hardware more suited to up-close use.
Xbox Live Arcade
[
edit
]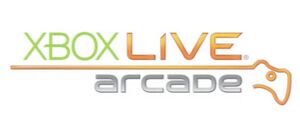 The Xbox Live Arcade service was developed by Microsoft for Xbox 360 users. Players can purchase games for a small price using Microsoft Points. The service was launched on November 22, 2005, with 10 games available to buy. Included in them is Hexic HD which was pre-installed with all Xbox 360 hard drives There have been a mix of games from big-name developers like Namco, Konami and Midway Games, but the service has also provided a gateway for smaller developers to develop games on a smaller scale.