Jump to navigation
Jump to search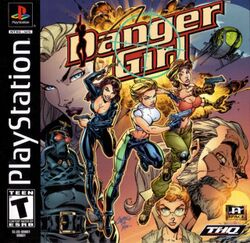 Danger Girl is an action game for the PlayStation that was developed by n-Space and published by THQ in 2000.
The evil Major Maxim, leader of the fascist Hammer Empire, has plans to destroy the free world. Who can stop him? Only DANGER GIRL, an elite squad of female operatives, can squash his menacing mission. Take control of team leader Abby Chase, Australian whip master Sydney Savage, and the new girl JC as they battle Maxim's minions across 12 levels of intense action. Each member of the group will have to use all of her assets to save the world. Dispatch evil with the Desert Eagle handgun, machine guns, rocket launchers, pipe bombs, dart guns, and of course Sydney's whip. If the bad guys keep shooting at you, use the first-person view to locate and destroy the desperados. Will the team survive to fight another day? Play DANGER GIRL and find out.
It is loosely based on the first series which were consisted of seven comic issues, but there have been many significant changes from the original storyline, such as Abbey Chase being a veteran Danger Girl operative and Natalia Kassle working for The Hammer from the very beginning of the adventure. Plus, it features a brand new character in one of the leading roles, named JC, which is described as the "newcomer" in the agency, filling in the shoes of Natalia as her replacement. However, the game has received negative reviews from critics.
Box artwork[edit]
Table of Contents