Jump to navigation
Jump to search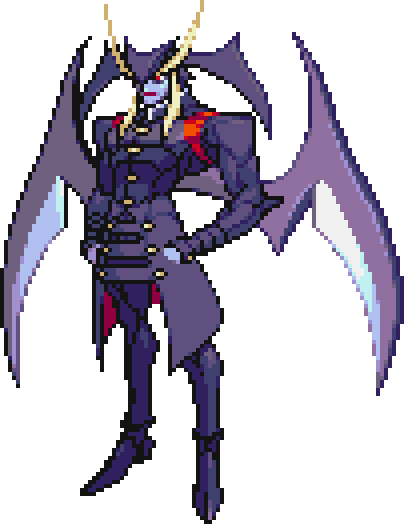 Though he is over 6000 years old, Jedah (full name Jedah Dohma) is the youngest out of the three High Nobles of Makai. Jedah was always distressed about the future of Makai (Japanese for "demon world"). He believed that if Makai was left under Belial's rule, the master of the Aensland family and the true ruler of Makai, then it would grow old and begin to decay. Belial would most likely say that such is destiny and life. Jedah considered Belial to be an abomination, and actively sought out the opportunity to kill him, waiting for the right time to strike.
After the death of Garunan, the master of the Bosital family and the oldest of the three high nobles, Jedah had a young confidant named Ozomu. Simply put, he was a gourmet. The reason he came under Jedah was to be able to eat delicious souls. As a noble, his skills were second class, but his ability to deceive others were first class. He was a genius in using others. He advised Jedah about using the gate of Makai. Jedah, being confident in his ability to absorb souls, agreed to this. He ordered Ozomu to break a part of the seal to open the gate more.
When Ozomu arrived at the gates, he realized that enormous powers lay within the gates and that even Jedah would destroy himself if he absorbed all this power at once and saw this as his chance to take over the throne. He lies to Jedah and tells him that he must destroy all the seals because little power was coming out. After destroying the seals, he ran off to the far reaches of Makai. The destruction of Jedah meant his rise in power and his plot succeeded.
Ozomu gathered the left over power and stored it in Dohma Castle. This is how Ozomu became the new master of the Dohma family; the birth of Emperor Ozomu.
100 years later, after a century-long sleep, Jedah was revived in Makai. He felt distressed towards the crazed Makai, nobles fighting each other and spilling blood. Instead of anger, he felt pity towards Ozomu, who had betrayed him. Jedah had already made up his mind: His complete revival and the cleansing of all souls. For this, a new stage was necessary; a new dimension, the Majigen.
Jedah arrived at Dohma Castle and saw Ozomu and laid out his hand. Although his powers were not yet completely restored yet, he had enough powers to remove Ozomu. Ozomu had become a spineless gourmet, Jedah quietly whispers, "Ozomu... I am sorry, but please lend me your powers. Your soul would become the foundation of Majigen and will help the future of Makai."
The Dohma Castle was taken into the dark space along with Ozomu. This was the beginning of Ozomu's salvation. Jedah believed that he was the one that needed to recreate life by fusing all souls into one life form, the Shintai. To do this, he summoned all those with worthy souls to enter into his newly created realm.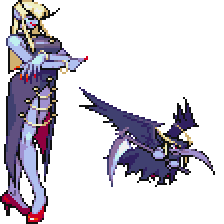 When hit by Anakaris' Pharaoh's Curse, he becomes a crow or a raven with a sharp hooked beak, carrying a scythe in his claw. When attacked by Demitri's Midnight Bliss, he transforms into a provocative female version of himself with long blond hair. Jedah has some sort of rivalry with Donovan, as explained in the PlayStation version of Darkstalkers 3. However, it is Anita that concerns Jedah. Jedah is implying, in his ending, that Anita is the ruler of humans that has yet to awaken, in the words "I'll have to destroy the other world, the human world, before their leader, before she fully awakens." She is among the greatest threats to his plans to save Makai. All of Jedah's normal and special moves have Italian names, such as the Ira Spinta (Fury Push), Nero Fatica (Black Effort), Prova di Servo (Servant's Proof) and Santuario (Sanctuary), which alludes to the Inferno by Dante.

| Name | | Input |
| --- | --- | --- |
| Sange=Vanjerono | or + | or |
| Masto=Spinta | or + | or |
| Dash Kidou Henka | or | during dash |
| Balzo=Perdono | | |
| Dio=Sega | + | |
| Nero=Fatica | + | |
| Ira=Spinta | + | |
| __Ira=Piano | | during Ira=Spinta |
| San=Passare | close + | or |
| Spreggio | + | while blocking |
| Prova=di=Servo | + | , then |

| Name | | Input |
| --- | --- | --- |
| Sange=Vanjerono | or + | or |
| Masto=Spinta | or + | or |
| Dash Kidou Henka | or | during dash |
| Balzo=Perdono | | |
| Dio=Sega | + | |
| Nero=Fatica | + | |
| Ira=Spinta | + | |
| __Ira=Piano | | during Ira=Spinta |
| San=Passare | close + | or |
| Spreggio | + | while blocking |
| Finale=Rosso | + | |
| Prova=di=Servo | + | , then |

| Name | | Input |
| --- | --- | --- |
| Sange=Vanjerono | or + | or |
| Masto=Spinta | or + | or |
| Balzo=Perdono | | |
| Rasare=Sega | + | or while opponent is downed |
| Dio=Sega | + | |
| Nero=Fatica | + | |
| Ira=Spinta | + | (at start hold or ) |
| __Ira=Piano | | during Ira=Spinta (at start hold or ) |
| San=Passare | + | or , close |
| Spreggio | + | while blocking |
| Finale=Rosso | + | |
| Prova=di=Servo | + | , then |
| Kuuchuu Fuyuu: Santuario | | + of the same strength |

| Name | | Input |
| --- | --- | --- |
| Sange=Vanjerono | or + | or |
| Masto=Spinta | or + | or |
| Balzo=Perdono (Zenpo) | | |
| Balzo=Perdono (Ue) | | |
| Balzo=Perdono (Shimo) | | |
| Dio=Sega | + | |
| Nero=Fatica | + | |
| Ira=Spinta | + | (at start hold or ) |
| __Ira=Piano | | during Ira=Spinta (at start hold or ) |
| San=Passare | + | or , close |
| Spreggio | + | |
| Finale=Rosso | + | |
| Prova=di=Servo | + | (press for grab) |
| Kuuchuu Fuyuu: Santuario | + | |
| Dark Force | | + of the same strength |