Jump to navigation
Jump to search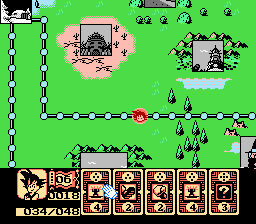 The Map mode occurs when Goku travels between Adventure mode sites. Traveling from one location to another resembles a board game. A certain number of spaces must be crossed to reach a destination. The number of spaces that you can travel at a time is determined by the number of stars in the Dragon Ball of the card you select. After each card is used, you must choose one of five face down cards and discover the outcome of your choice.
Select a card

The number of star in the Dragon Ball of the card you select determines how many spaces you may travel between destinations.

Select a direction

As soon as you begin moving in one direction, you are locked into that choice. You may not reverse directions, so choose the direction you want to move in carefully.

Select a face down card

One of four (later five) characters will appear on the face of the card you chose. The outcome of that choice is played out before the next turn begins. In the case of some characters, the outcome is random. See below.
Characters[edit]

Fortuneteller Baba

One of four outcomes is chosen at random:

The player is given a chance to draw another card.
All of your in-hand cards are discarded and five new cards are drawn.
A mini-game of Concentration is played, where the player attempts to match the faces of companion cards. For every successful match, that companion's helper card is added to the player's inventory. If Piccolo's face is revealed, the player must enter Combat mode.
Master Roshi asks you to train. He presents a card and you are given the opportunity to choose any card from your hand that can tie or beat his card (based strictly on the Power; the number of star in the Dragon Ball). If you manage not to lose to any of his cards, he will reward you with experience points.

Piccolo

If you uncover Piccolo's face, you are immediately attacked, and transferred to Combat mode.

Dragon God Shenron

One of four outcomes is chosen at random:

You may exchange your least wanted in-hand card for a new one.
You are awarded one companion's helper card, which is added to your inventory.
You eat a meal, and some of your health is recovered.
You eat a Senzu Bean, and all of your health is recovered.

Mister Popo

Uncovering Mr. Popo immediately ends the turn with no benefit or consequence.
Later on in the game, after you encounter him, you can also uncover Korin, who will immediately restore all of your health.