Jump to navigation
Jump to search
The Developer's Office is a secret area available in all versions except the North American SNES release, accessed by walking east through a hidden passage in the Dwarven Castle Pub. It contains all of the developers of Final Fantasy IV for you to talk to, with random encounters for some of them as well, each with their own script and gag. The only item here is the Lustful Lali-Ho located in the bookshelf of the basement, which is a joke item that has no effect besides a funny scene when used.
Tetsuya Takahashi[edit]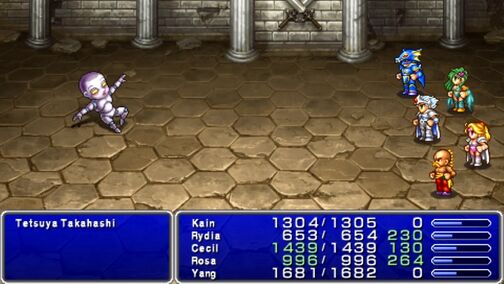 Boss Info:
Name

HP

65000

Weaknesses

None

Resists

Physical, Magic
Tetsuya will keep saying "You wanna die?" until the battle ends, but this does nothing. Her defenses are high enough that your attacks won't do any damage to her. The easiest way to kill her is to cast Poison, then cast Toad, and then attack her.
Akihiko Matsui[edit]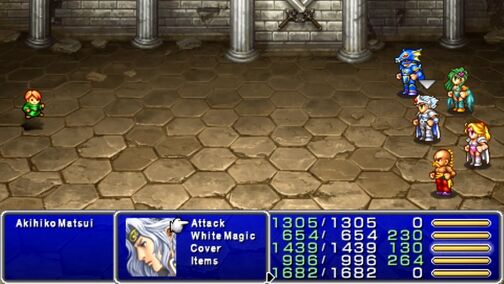 Boss Info:
Name

HP

1

Weaknesses

Fire, Lightning, Ice,
Holy, Thrown,
All-nighters,
Girls with specs
Akihiko will start the battle bragging about his stats, cast Libra on a random party member, cast Libra on himself, and then run away in shame.
Kiyoshi Yoshii[edit]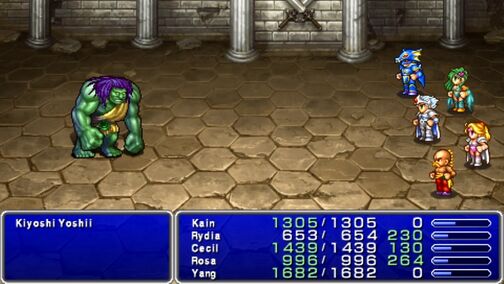 Boss Info:
Name

HP

65000

Weaknesses

None
Kiyoshi won't attack you, and will instead cast Sleep on himself and then run away after a series of messages.
Hiroyuki Ito[edit]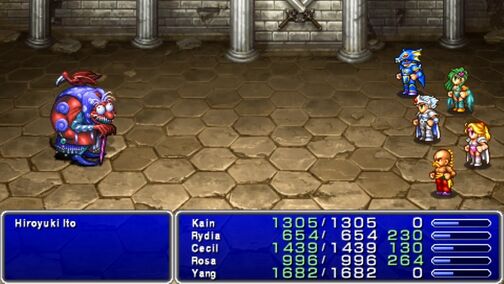 Boss Info:
Name

HP

1969

Weaknesses

None
Same as Kiyoshi, Hiroyuki won't attack, and will cast Sleep on himself.
Hiromi Nakada[edit]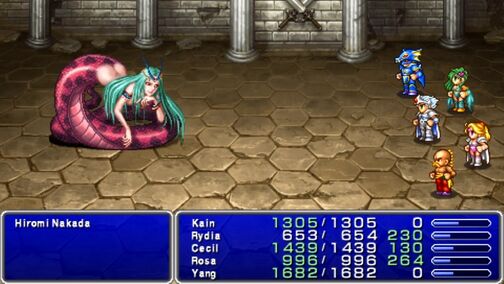 Boss Info:
Name

HP

60000

Weaknesses

None
If attacked, Hiromi will say "Clumsy!" and counter with Slap. She will eventually retreat once her manager calls her.
Kazuhiko Aoki[edit]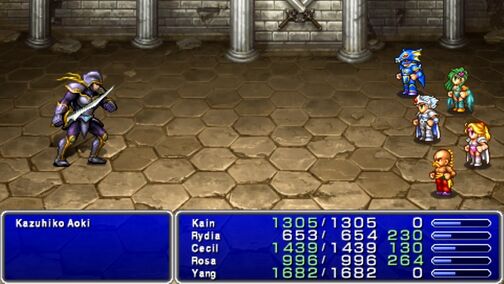 Boss Info:
Name

HP

10000

Weaknesses

None
Kazuhiko will retreat the first turn he gets. If you get a pre-emptive strike, you can cast Stop on him and potentially kill him.
Katsuhisa Higuchi[edit]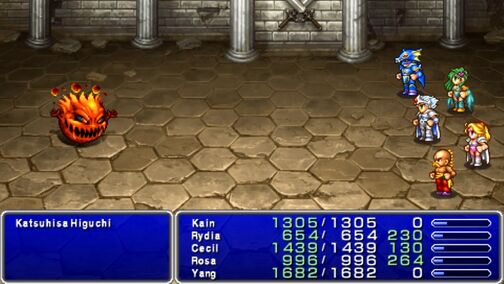 Boss Info:
Name

HP

2

Weaknesses

None
Attacking him for 1HP of damage will cause him to use Detonate and deal 1HP of damage to a party member, otherwise he will just die with a single hit.