Jump to navigation
Jump to search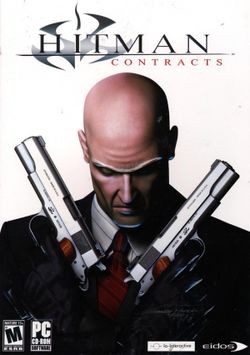 Hitman: Contracts is a stealth game, developed by IO Interactive. The game is the third game of the Hitman series, released on April 20, 2004. It is the sequel to Hitman 2: Silent Assassin, and features recreations of four levels from Hitman: Codename 47. The storyline also intertwines between two missions in its sequel, Hitman: Blood Money.
Gameplay
[
edit
]
Gameplay centers around the exploits of a hitman, Agent 47 as he is sent to various locations to assassinate targets. An array of weapons can be used, from shotguns to jian. While stealth and subterfuge is encouraged, the game allows the player to take a more violent approach and gunfight their way to their mission goals. As players progress through the game, they can collect the various armaments found in the levels, allowing them to be used in future missions. Aside from the more straightforward ways of killing targets such as gunplay and strangulation, several missions allow the player more subtle ways to eliminate hits, such as food and drink poisoning. This includes "accidents" involving the environment, e.g. falling from a balcony or dying from a heat-induced heart attack in a sauna.
Players are rated on their performance based on several factors, key among which are the number of shots fired, NPCs killed, and the number of times the guards are alerted. The lowest rank is "mass murderer," which is awarded to players that kill mass numbers of NPCs in the pursuit of their target and do not use stealth. The highest rank is "silent assassin," which is earned when the player accomplishes their mission near-perfectly.
Table of Contents