James Bond 007: The Duel
From StrategyWiki, the video game walkthrough and strategy guide wiki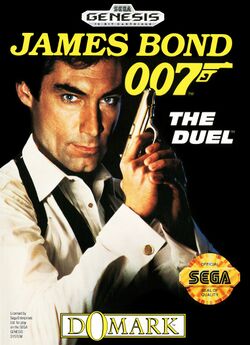 James Bond: The Duel (known as 007 Shitou in Japan) is a James Bond video game released for the Sega Master System, the Sega Game Gear and the Sega Mega Drive/Genesis. It is loosely based on the spy films featuring Ian Fleming's secret agent, 007.
The game was developed and published by Domark and released in 1993. There is also a Sega Mega Drive/Genesis cartridge version which has Tengen logo and credits instead of Domark.
Armed with a pistol, the player controls James Bond through various side-scrolling enemy bases to rescue female hostages and arm a bomb placed at a strategic point to destroy the base. Along the way, Bond must battle numerous thugs and familiar bosses. The game is often compared to Namco's Rolling Thunder series, although it was much less popular with the critics.
Table of Contents
James Bond 007: The Duel/Table of Contents