Jump to navigation
Jump to search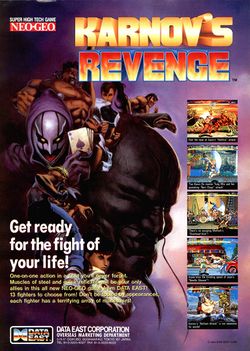 Karnov's Revenge, also known as Fighter's History Dynamite in Japan, is a 1994 fighting game developed by Data East, released for the Neo Geo. It's the second game in the Fighter's History series. The game was later ported to the Neo Geo, Neo Geo CD and Sega Saturn home consoles.
While the previous game was similar to Street Fighter's 6-button setup, the gameplay system of Karnov's Revenge is akin to SNK's fighting games such as Fatal Fury. Due to change of hardware to SNK's MVS platform, the control configuration was reduced from six attack buttons to just four (only light and heavy attacks are available this time).
A new gameplay feature is introduced in the form of "one-two attacks". When the player presses a heavy attack button while performing a light attack or blocking, the interval between light attacks is reduced, making combos easier to perform. While this feature is not mentioned on the instruction card, the final page of the home Neo Geo version's manual mentions it, describing as the "one-two attack" system.
All eleven fighters from the previous game return (including the bosses Clown and Karnov, who are now playable) and are joined by two new characters: Yungmie, a female taekwondo exponent from Korea, and Zazie, a karate practitioner from Kenya, for a total of 13 characters. Karnov is the only returning character who was given entirely new sprites. Most of the returning characters were given new special techniques (with a few exceptions), including hidden techniques which are not listed on the instruction card (the manual for the home version hints at their inclusion). The ox that appeared in the bonus rounds in Karate Champ appears in this game as a secret boss if the player completes the game on the Normal setting or above without losing a round. The ox is an unplayable character.
Table of Contents
Character Select[edit]