Jump to navigation
Jump to search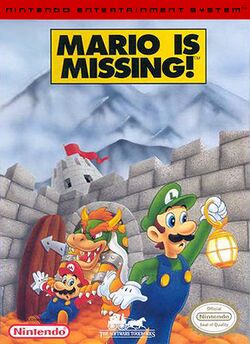 This guide is for the NES port. For the original version of this game for MS-DOS and SNES, see Mario Is Missing!.
Mario Is Missing! (マリオ イズ ミッシング!, Mario Izu Misshingu!?) is an educational geography-based game for MS-DOS, Mac OS, SNES, and NES. It was developed by The Software Toolworks and released in 1992 for PC and SNES. In 1993, the NES version was made and developed by Radical Entertainment. The first two versions were published by Mindscape, and the NES version was published by Nintendo. It features very similar sprites to those of Super Mario World (SNES) and Super Mario Bros. 3 (NES).
Mario Is Missing! is the first Mario game to feature only Luigi as the starring character, which did not occur again until Luigi's Mansion in 2001.
Artwork
[
edit
]
Table of Contents