Master of Illusion
From StrategyWiki, the video game walkthrough and strategy guide wiki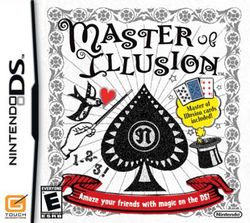 Master of Illusion, known in Japan as Magic Encyclopedia (マジック大全, Majikku Taizen) and in Europe as Magic Made Fun: Perform Tricks That Will Amaze Your Friends!, is a magician video game for the Nintendo DS, developed and published by Nintendo. Several of its magic tricks were also made available over the Nintendo DSi's DSiWare download service.
The packaging of the game includes a full deck of (marked) Nintendo playing cards, so the player can practice the card illusions they have learned while playing the game outside of the portable system.
Master of Illusion puts the player in the role of an illusionist who must learn and perfect his tricks. The game has three basic modes: Solo Magic, Magic Show and Magic Training. The first one is a compilation of varied minigames, the other two being the "meat of the game," or the important part, according to reviewers. In both, the objective is to perform tricks and earn points, which grant the player more tricks and illusions. The system has a limit for the points a player can earn in a full day, though this can be bypassed by changing the date on the Nintendo DS system.
Table of Contents