Mighty Bomb Jack
From StrategyWiki, the video game walkthrough and strategy guide wiki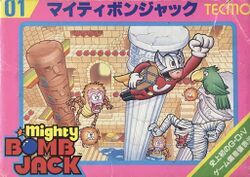 Mighty Bomb Jack
Developer(s)
Tecmo
Publisher(s)
Tecmo, Elite Systems
Year released
1986
System(s)
NES, Arcade, Commodore Amiga, Amstrad CPC, Atari ST, Commodore 64/128, DOS, Sinclair ZX Spectrum, Wii, Nintendo 3DS, Wii U, Nintendo Switch
Preceded by
Bomb Jack
Series
Bomb Jack
Mighty Bomb Jack is a game developed and published by Tecmo in 1986. It was originally released on the Nintendo Famicom. The game is based on the original arcade title, Bomb Jack. It was later converted for play on the Nintendo "Vs. Arcade" system as Vs. Mighty Bomb Jack. The game gained considerable popularity in Europe, where it was ported to several popular home computer platforms by Elite in 1987. The original version of the game was later released for download on the Wii Virtual Console in 2007.
Gameplay
[
edit
]
The original Bomb Jack featured the titular character attempting to clear stage after stage of bomb-filled rooms while avoiding collisions with enemies. Mighty Bomb Jack expands on this formula by providing platform-like stages between bomb rooms, which Jack must navigate. Many of the chambers have multiple exits, some of which advance Jack forward, and some of which send him back. There are many hidden items that Jack can uncover, some of which are required to successfully complete the game.
Mighty Bomb Jack is a considerably difficult game to beat. It highlights a system known as the Grade Deviation system (abbreviated as GDV) which grades the player on a scale of 47 to 99 on the basis of their performance throughout the game. Other features prevent the player from collecting too many power-ups by punishing them and sending them to the torture room, from which they must escape by jumping 50 times.
There was a legendary King Pamera, who maintained peace and order all over the world. Nobody could ever catch sight of King Pamera. One day, the demon king Belzebul had a wicked plot to bring the world into ruin by abducting the merciful King Pamera, his beloved queen, and their beloved princess.
The brothers Mighty fought bravely against Belzebul in order to save King Pamera. Unfortunately, every brother was defeated at the hands of the demon king except for Jack, the youngest and lone survivor. Jack gained additional courage and challenged Belzebul to a final fight, in order to restore peace all over the world.
Good luck, Jack!
Table of Contents