Jump to navigation
Jump to search
This is the first game in the Mother series. For other games in the series see the Mother category.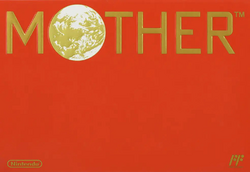 Mother, officially known outside of Japan as EarthBound Beginnings, is an RPG developed by Ape and Pax Softnica and published by Nintendo for the Famicom in 1989. It is the first entry in the Mother series. It is modeled on the gameplay of the Dragon Quest series, but is set in the late 20th-century United States, unlike its fantasy genre contemporaries. Mother follows the young Ninten as he uses his great-grandfather's studies on psychic powers to fight hostile, formerly inanimate objects and other enemies. The game uses random encounters to enter a menu-based, first-person perspective battle system.
Writer and director Shigesato Itoi pitched Mother's concept to Shigeru Miyamoto while visiting Nintendo's headquarters for other business. Though Miyamoto rejected the proposal at first, he eventually gave Itoi a development team. A North American version of the game was localized into English, but was abandoned as commercially nonviable. A copy of this prototype was later found and circulated on the Internet under the informal title EarthBound Zero. The game was eventually released globally as EarthBound Beginnings for the Wii U Virtual Console in June 2015 and Nintendo Switch Online in February 2022.
Mother was the sixth best-selling game of 1989 in Japan, where it sold about 400,000 copies and received a "Silver Hall of Fame" score from Famitsu magazine. Mother was praised for its similarities to the Dragon Quest series and its simultaneous parody of the genre's tropes; however, many considered its sequel EarthBound to be similar and a better overall implementation of Mother's gameplay ideas, with the game's high difficulty level polarizing critics, along with balance issues. The game was re-released in Japan on the single-cartridge compilation Mother 1+2 for the Game Boy Advance in 2003.
Table of Contents