Jump to navigation
Jump to search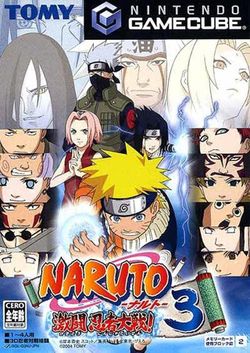 Naruto: Gekitou Ninja Taisen! 3 (often Gekitou is romanized as Gekitō) is the third installment of the Clash of Ninja series. The game was announced on August 3, 2004, and released in Japan on November 20, 2004. The game covers the events of the anime from the Chunin Exams to the Search for Tsunade arc. This installment introduces the ability to change forms during combat and gives some characters a second special attack. In addition, the game adds on to the tag-team mode from Clash of Ninja 2, granting the player the ability to use team specials. This game was released exclusively in Japan. It was later re-released as Naruto: Clash of Ninja Revolution for the Wii.
Gekitou Ninja Taisen! 3 is the first installment in the series to be released exclusively in Japan. However, it's more like a build-up of its predecessor, Clash of Ninja 2. It utilizes the same features, like tag-team battles and the shop mode bonus, but also adds the ability to switch forms during combat, a three-on-one battle mode, and new fighters such as Itachi Uchiha and Tsunade, bumping up the roster to over thirty playable fighters. The theme seems to circulate mostly around the budding rivalry of Naruto Uzamaki and Sasuke Uchiha, this time with Naruto trying to bring his old friend back to Team 7, while Sasuke is focused on killing Naruto for more sharingan power.
Gekitou Ninja Taisen! 3 was never released in North America or Europe due to the late releases of Clash of Ninja and Clash of Ninja 2. The late introduction of the anime and manga series to America and Europe also factored into this, as Gekitou Ninja Taisen! 3's storyline was ahead of the anime's progress in the regions.
Table of Contents