Overlord (2007)
From StrategyWiki, the video game walkthrough and strategy guide wiki
This is the first game in the Overlord series. For other games in the series see the Overlord category.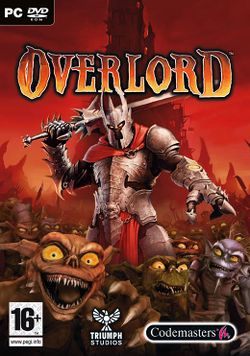 For the original strategy game, see Overlord. For the 1994 flight simulation, see Overlord (1994).
Overlord is a third-person action-adventure game developed by Triumph Studios and published by Codemasters for the Xbox 360, Microsoft Windows and PlayStation 3. The former two versions of the game were released in North America on June 26, 2007, then later in Europe on June 29 and Australia on July 6, 2007.
Development on the game began in early 2006 and the game was first announced in May of the same year, with actual gameplay demonstrated at E3 2006. After over a year and a half of development, its release in 2007 was met with generally favourable reviews and helped boost overall sales for Codemasters that year. An expansion pack entitled Overlord: Raising Hell was announced on November 1, 2007 and released February 15, 2008 along with additional multiplayer maps and a local split screen co-op mode. A PlayStation 3 version of the game also entitled Overlord: Raising Hell was released in 2008 in Europe on June 20, and June 24 in North America, which included both the original game and its downloadable content. A sequel for all three systems entitled Overlord II was announced the same year on August 13 along with a spin-off for the Wii entitled Overlord: Dark Legend and a Nintendo DS game called Overlord: Minions.
Gameplay
[
edit
]
Overlord is set in an unnamed fantasy world, where the player takes the role of a resurrected warrior known simply as The Overlord who has control over hordes of gremlin-like creatures known as "minions". The player must defeat seven corrupt ruling heroes in order to reconquer the lands and establish his lordship over its inhabitants. The game features a corruption feature, similar to that of the Fable games, but allowing the player to "be evil... or really evil," where certain actions and choices affect different aspects of the story and gameplay. While the Overlord is controlled in a third person perspective, the way minions are controlled brings elements of real time strategy and upgrades bring those of role-playing games. The game also uses black humour and is often a satire and parody of the traditional fantasy setting and plot.
Table of Contents