Jump to navigation
Jump to search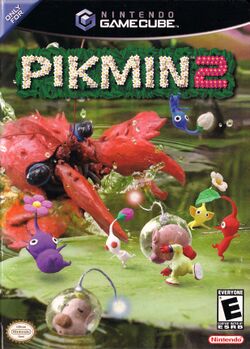 Pikmin 2 is the sequel to Nintendo's award-winning title Pikmin. It features many new aspects such as multiplayer, controlling two characters, two more types of Pikmin, and spelunking into deep caves. It follows in the fashion of the original Pikmin for the most part, but has removed the time limit and made the objective to collect artefacts to sell.
In the story, captain Olimar has returned back to his home planet of Hocotate only to find that the company he works for, Hocotate Freight, has gone bankrupt when a newer space trucker Louie had lost a valuable cargo filled with Golden Pikpik brand carrots due to a ravenous space bunny raiding his cargo. The President, realizing that the souvenir Olimar brought back would be worth money, decides to save the company by sending Olimar and Louie back to the planet to collect its valuable cargo!
Title screen
[
edit
]
On the GameCube version, the player can make a few changes to the title screen.
Press to make Pikmin say Nintendo.
Table of Contents
Spin-offs:
Compilation(s):