Jump to navigation
Jump to search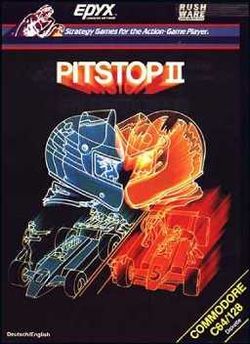 Pitstop II is a computer race car game published in 1984 by Epyx. It allows players to race head to head on a split screen. Pitstop II has the technical accolade of being the first 3D racing game to implement a split-screen simultaneous two-player game mode. Players could be in completely different places on the racing track, and each split screen would show the view of the track according to the player's position.
This game was re-released on the Wii Virtual Console in Europe on August 8, 2008 and North America on February 23, 2009.
Gameplay[edit]
The game allows the player to choose from six international race tracks. The game lets players not only race around the track, but requires that they keep an eye on their tires and fuel gauge also. Players are able to pull in for a pit stop to change tires as well as re-fuel.
Table of Contents