Prey
From StrategyWiki, the video game walkthrough and strategy guide wiki
This is the first game in the Prey series. For other games in the series see the Prey category.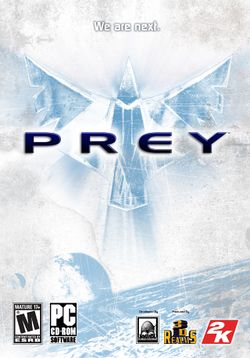 Prey is a first-person shooter video game developed by Human Head Studios and produced by 3D Realms using a heavily modified version of the Doom 3 engine. Venom Games is responsible for the Xbox 360 port of the game.
A playable single and multiplayer demo of the game was released on June 22, 2006 for Windows, and a downloadable Xbox 360 demo was released on the Xbox Live Marketplace on June 30, 2006. The game went gold on June 28, 2006, and was released in North America on July 11, 2006 and on July 14, 2006 in Europe.
In October 2006, 3D Realms CEO Scott Miller announced that the game is a commercial success on both PC and Xbox 360 with combined 1 million copies sold worldwide to date.
On November 29, 2006 Aspyr Media announced a Mac port, with an anticipated release date in January 2007.
On November 30 2006, Prey was released on Steam. Previous purchasers of both the retail or downloadable version are able to activate a copy using their existing CD key.
The story focuses on Domasi Tawodi (Cherokee) (a.k.a. Tommy), a Cherokee garage mechanic and former U.S. Army soldier living on a Native American reservation in Oklahoma. At the beginning of the game Tommy is in a bar owned by his girlfriend Jen. Domasi is tired of living on the reservation, and constantly tries to push his heritage away. At the same time he tries to convince Jen to leave home with him, if only for a short while, to which she refuses steadfastly. A series of unpredictable events leads Tommy on a path to save humanity and the bonds to his spiritual heritage.
Table of Contents