Jump to navigation
Jump to search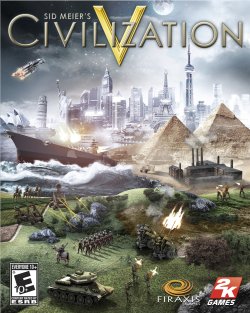 Civilization V is the fifth main installment of the Civilization series.
Gameplay[edit]
It features some significant changes from past installments. The tiles have been switched from squares to hexagons, and military units can no longer be stacked on the same tile. The game also introduces Social Policies that replaces the Civics system, Natural Wonders, strategic resources, minor civilizations called city-states and Unique Abilities for each Civ.
In Civilization V, players are challenged to build and lead a civilization through multiple eras, dividing their focus on growth, culture, economy, technologies and military. Like past installments there are multiple victory conditions, from taking over enemy capitals to winning the space race to being democratically elected as the supreme ruler of the world. It features most of the staple civilizations and some new ones, like the Songhai and the Siamese.
Table of Contents