Jump to navigation
Jump to search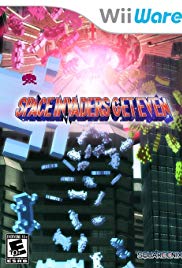 | | |
| --- | --- |
| Japanese title | スペースインベーダーズ・ゲット・イーベン・逆修のスペースインベーダーズ (Space Invaders Get Even: Gyakushū no Space Invaders) |
| Genre(s) | Real-time strategy |
| Players | 1 |
| Modes | Single player |
| Rating(s) | |
Space Invaders Get Even (Japanese: Space Invaders Get Even: Gyakushū no Space Invaders スペースインベーダーズ・ゲット・イーベン・逆修のスペースインベーダーズ), is a real-time strategy game that was developed by Taito Corporation for Square Enix and released on the Nintendo Wii in 2008; it's the tenth, and ninth official, game in their Space Invaders series (as well as the first since 1985's Return of the Invaders which does not support multiplayer). Unlike in all nine of the previous games, the player controls a UFO with a swarm of invaders circling round it on a mission to take over Earth.
This is taken from the back of the game's box, the front of which is displayed in the image to the right:
The Space Invaders are back, and this time they're out to
get even! Take control of a UFO and make those
Earthlings pay by unleashing your fleet of heroic invaders
against their puny tanks, fighter jets, and artillery - but
watch out for the massive boss awaiting you at the end of
each stage! Use your invaders' five attack types and the
might of the mother ship to rack up high scores, then
upload them via Nintendo Wi-Fi Connection and see where
you stand in the global rankings!
© Taito Corporation and Square Enix 2008
Table of Contents
Space Invaders Get Even/Table of Contents