Space Quest II: Vohaul's Revenge
From StrategyWiki, the video game walkthrough and strategy guide wiki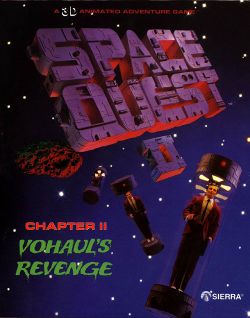 The sophomore game in the Space Quest series followed the formula set before it by other Sierra sequels. On one hand, Space Quest II is an improvement over its predecessor. However, technical differences between Space Quest I and Space Quest II are almost unnoticeable, apart from a functional menu and improved keyboard shortcuts.
The story of Space Quest II provides for fewer moments of cynical commentary that is so often associated with Space Quest titles, and instead plays like a real "space adventure," though it still has moments of pure, silly, slapstick humor. Yet most important of all, the game itself was a rather good one. At the time of its release, Vohaul's Revenge proved Space Quest to be a serious franchise of Sierra On-Line, capable of many variations on the same science-fiction theme. While the later games in the series pushed the limits of video-game satire to all new levels, Space Quest II remains an honest, down-to-earth adventure.
Space Quest II was listed number 4 on Sierra's Best-sellers list. It has sold over 100,000 copies and was awarded the Gold Medal by the Software Publishers Association.
Table of Contents