Jump to navigation
Jump to search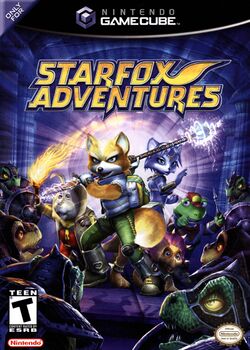 Star Fox Adventures is a part of the Star Fox series. It was the last game developed by Rare for Nintendo, before the company was acquired as a first-party developer for Microsoft's Xbox. It is the third game in the series, succeeding Star Fox 64, and the first game in the series to feature adventure-style gameplay.
This game had an Nintendo 64 prototype titled Dinosaur Planet. Instead of Fox McCloud being the only playable character, the player plays as Krystal and a wolf named Sabre, which both can be later swapped by visiting the SwapStone Twins, Rocky or Rubble. The Nintendo 64 version was cancelled and a prototype of it was leaked online.
The evil General Scales has been causing chaos on Dinosaur Planet, and it is up to the leader of the Star Fox Team, Fox McCloud, alongside Peppy Hare and Slippy Toad, and the new character, Krystal, to put an end to this madness.
Table of Contents