Jump to navigation
Jump to search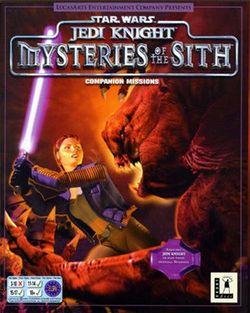 Star Wars Jedi Knight: Mysteries of the Sith is an expansion pack for the 1997 first-person shooter Star Wars Jedi Knight: Dark Forces II. It was developed and published by LucasArts, and released on January 31, 1998. The expansion includes a single player mode and fifteen multiplayer maps. The multiplayer mode allows up to eight players to play online or over a LAN. In 2009, it was re-released via Steam, along with its predecessors and sequels.
The single-player story is set five years after the events of Dark Forces II. The player controls Kyle Katarn, protagonist of Star Wars: Dark Forces and Dark Forces II, and later in the game, Mara Jade, one of the most popular Star Wars Expanded Universe characters.
The game features several technical improvements over Dark Forces II, including colored lighting, new textures and models, and improved artificial intelligence. Mysteries of the Sith received mostly positive reviews from critics, with praise given to the game's story and to the AI improvements.
Table of Contents