Tomba! 2: The Evil Swine Return
From StrategyWiki, the video game walkthrough and strategy guide wiki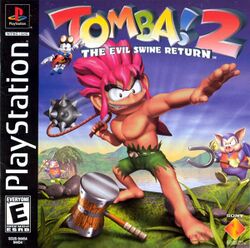 Tomba! The Wild Adventures in Japan, Tomba! 2: The Evil Swine Return in North America and Tombi! 2 in Europe is a platform game developed by Whoopee Camp and published by Sony Computer Entertainment for the PlayStation. The game was released in Japan on October 28, 1999, in North America on December 31, 1999 and in Europe on June 30, 2000. It was re-released on the Japanese PlayStation Network as a PSone Classic on September 28, 2011.
Tomba! 2: The Evil Swine Return is a sequel to the 1997 video game Ore! Tomba in Japan, Tomba! in North America and Tombi! in Europe. The game's story centers on the journey of the titular character Tomba, who must find his kidnapped childhood friend Tabby and capture the Evil Pigs that have cursed the continent with their magic.
A young feral boy named Tomba lives peacefully in his home country until his friend Zippo finds a mysterious letter addressed to Tomba. According to the letter, Tabby, Tomba's childhood friend, has disappeared. Wracked with anxiety, Tomba leaps into the sea in search of her.
Table of Contents