Turok: Evolution
From StrategyWiki, the video game walkthrough and strategy guide wiki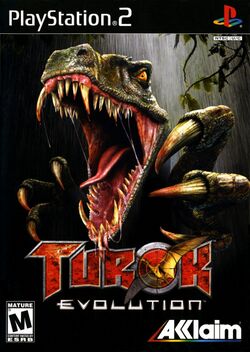 This guide is for the console release. For the GBA version, see Turok: Evolution (Game Boy Advance).
Turok: Evolution is a first-person shooter video game developed and published by Acclaim Entertainment. The game was originally released for the Game Boy Advance but then later released for the Nintendo GameCube, PlayStation 2, and Xbox in 2002. A port for the PC was released in 2003 for the European market. It is followed by a 2008 entry in the Turok series, simply called Turok.
The game follows Tal'Set, a Native American who is transported to the Lost Land while fighting Captain Tobias Bruckner of the United States Army. Apparently this occurs in the late 19th century, around the time of the Indian Wars. He is rescued by the seer Tarkeen, who says he is the legendary Son of Stone, known to them as Turok.
The story then introduces a new villain, the Sleg, who are a lot like the dinosoids and Purr-Linn from the previous games. The Sleg themselves largely seem to have no greater objective than enslaving humans. Eventually, however, their leader, the genocidal Lord Tyrannus, reveals his plan to destroy the human city of Galyana with an army led by a colossal beast called the Juggernaut, which resembles an Amphicoelias, but is much larger. He also allows Bruckner to join the Sleg army. It is up to Tal'Set to save first the River Village's "Wise Father," then the rest of the humans from destruction and enslavement.
Table of Contents